Clubs and Uefa agree to reduce international matches
Last updated on .From the section Football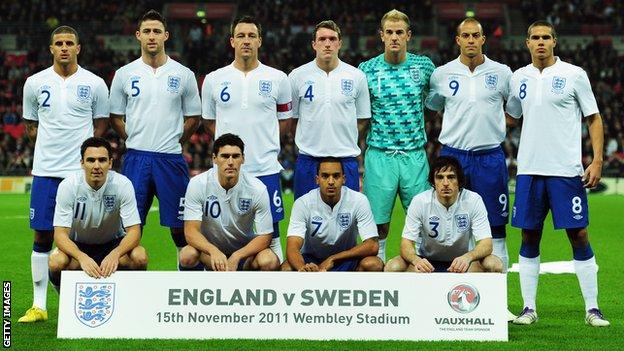 The number of international matches played each year is set to be cut after European clubs and Uefa agreed changes to the schedule.
Clubs had wanted the number of fixtures halved from 12 to six a year, but the new agreement would see nine double-headers over a two-year period.
This would mean one-off friendlies like England's match with the Netherlands on Wednesday would not take place.
The compromise deal has yet to be agreed with world governing body Fifa.
The agreement was announced at the European Club Association's (ECA) general assembly in Warsaw on Tuesday. The ECA comprises Europe's top 201 clubs.
In a new memorandum of understanding between Uefa and the clubs, it was agreed the two matches in each double-header should be played on the same continent.
And in future the final tournaments of all confederations will end in mid July, and players would not be expected to feature in more than one international tournament a year.
The agreement on the proposals of the international calendar would see the unpopular friendly date in August removed from the schedule.
The clubs have, however, been unable to persuade Uefa to back them in their opposition to the timing of the Africa Cup of Nations in January and February. The agreement merely states that the tournament "shall start as soon as possible in January".
ECA chairman Karl-Heinz Rummenigge, though, confirmed that the clubs' boycott on talks with Fifa still stands.
Rummenigge said: "The agreement with Uefa is a major breakthrough for European club football.
"While an agreement has been reached with Uefa, the situation remains unsatisfactory in relation to Fifa. Unfortunately, discussions with the Fifa president have failed to lead to a satisfactory outcome which takes account of the clubs' demands."
Football's world governing body Fifa said it was "surprised" by the ECA's comments and that a working group which includes confederations, national associations, clubs and players would discuss the next international match calendar at a meeting on 5 March.
The statement added: "ECA representatives have previously declined attendance to other Fifa committee meetings, making it very difficult for progress to be made in discussions with the European clubs.
"The international dates and the international match calendar have to be applied on a worldwide basis and that this calendar is ultimately regulated by Fifa."
Uefa has also agreed to take out insurance to cover the wages of all players injured on international duty, starting at Euro 2012, and to increase the amount of money paid to clubs for their players taking part in the tournament.
The sum was £46.6m for the last tournament and the new figure - a "substantial increase" according to the ECA - will be announced in March.