MK Dons boss Karl Robinson determined to 'create history'
Last updated on .From the section Football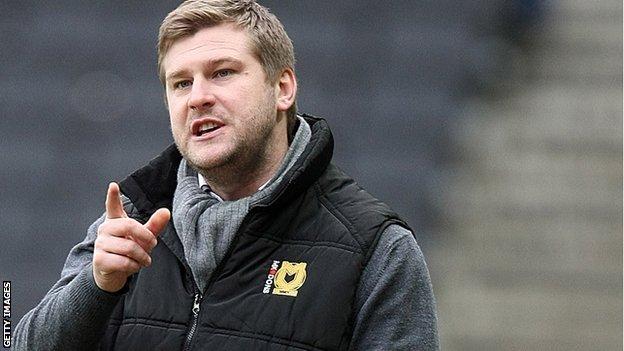 MK Dons boss Karl Robinson has said he will remain committed to the club because of his determination to "create history" at Stadium MK.
"I want to get out of the league," he told BBC Late Kick Off.
"I love the fact that we can create history. I've become emotionally attached to everything about the club."
The 31-year-old, who was rumoured to be in the running for vacancies at Huddersfield and Nottingham Forest earlier this season, added: "There's a number of things I've turned down and nothing's turned my head yet and I don't think it will for a long time."
"I've signed a new contract and everybody knows I'm very happy where I am.
"If my ambition falls short of the chairman's it will be time for him to get rid of me and vice versa."
The Dons are fifth in League One, four points adrift of second-placed Sheffield United, after winning their last three league games.
And Robinson believes his side, who were beaten in last year's play-off semi-final, can progress further this term and even clinch automatic promotion.
"We've got a strong belief in the dressing room, as have the fans the players, the board and the coaching staff," he said.
"We feel we're equipped and that we can deal with some injuries.
"This is probably the strongest the league has been. The two Sheffield clubs, Huddersfield, Charlton. It's one of the most difficult years to get out.
"But the lads have been fantastic."