Port Vale director Peter Miller resigns from the board
Last updated on .From the section Football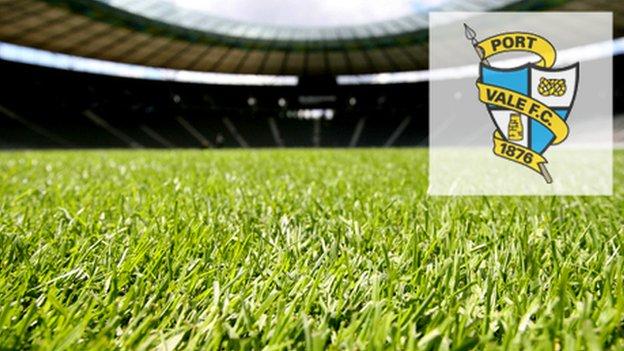 Port Vale have confirmed former chairman Peter Miller has resigned from his position as a director at the club.
Miller's departure means the Vale board has fewer than the four directors required by law to allow the club to function properly.
His resignation is a potentially significant development at a club which could be facing administration.
On Saturday Vale had a transfer embargo put on them by the Football League regarding an unpaid tax bill.
Club solicitor Paul Bennett previously told the Stoke Sentinel: "The one area of the law which is clear is if there is a minimum director requirement and you fall below that level then any remaining directors are limited in what they can do.
"They don't have the ability to enter into contracts or do things directors normally do to run the business."
Even so, Miller's resignation will please many supporters, many of whom have campaigned for the removal of the entire board.
He was appointed in September to find new investors for the club, following the collapse of a previous takeover deal.
However Miller came under increasing pressure from supporters after the failure of a proposed deal with American sports construction firm Blue Sky International.
The collapse of that deal resulted in supporter campaigns to remove Miller and remaining directors Mike Lloyd, Glen Oliver and Perry Deakin.
Shareholders would have had the opportunity to oust Lloyd, Oliver and Deakin at an AGM/EGM on 13 March, but because of the club's failure to post relevant information packs to shareholders the meeting has had to be postponed.
The possibility of going into administration is a major concern for supporters.
The club has fallen behind on repayments of a Stoke-on-Trent City Council loan believed to be around £1.8m.
Port Vale are required to make repayment at a rate of approximately £19,000 a month, but on Monday Stoke-on-Trent City Council announced that the club had paid only part of the February instalment.
They had earlier revealed the Valiants were late with both December and January repayments.
Essex-based shirt sponsor Harlequin is currently suing the club over the repayment of another loan, and Vale are also in dispute with their match programme producer and an American firm which sponsored their pre-season tour to the United States and Canada.