Chris Coleman hints Craig Bellamy could extend Wales career
Last updated on .From the section Football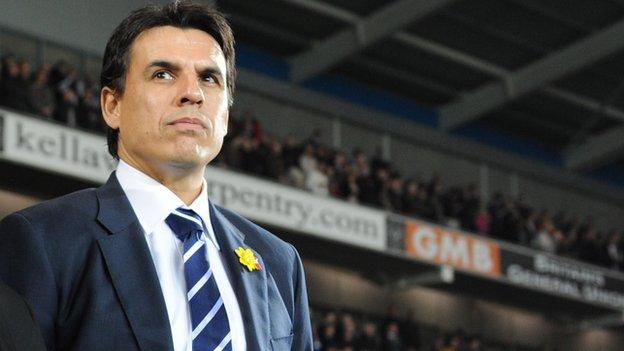 Wales manager Chris Coleman has given his biggest hint yet that striker Craig Bellamy will prolong his international career.
"My hunch," said Coleman, "he's in because he loves playing for Wales. He loves Wales.
"You don't get 60 odd caps without that. And he's paid his dues."
Bellamy has been considering his Wales future, but Coleman hopes he will stay on for the 2014 World Cup qualifiers.
The Liverpool striker is fifth in Wales' all-time top goalscorer list with 19 goals.
He won his 68th international cap against Costa Rica, in what was a memorial match to former boss Gary Speed, who died in November.
New manager Coleman has previously talked to Bellamy about extending his international career but is still waiting for a definite answer.
"How much do we want to go to Brazil [for the World Cup finals]?" added Coleman, who took charge of Wales for the first time on Wednesday after being appointed Speed's successor in January.
"How much do we want to want to do well in these qualifiers? Well, if we want to do well, he [Bellamy] has to be part.
"I've told him, without putting extra pressure on him, that it's black and white, and that's the case - you're in or your out."
"It'll be for Craig to come out when he's ready and say what he's going to do."
Former Wales captain Ryan Giggs says it is vital the Liverpool forward continues with the national side.
The Manchester United player was present at Cardiff City Stadium for the Costa Rica game and would like to see his former team-mate continue.
"I think it is very important Craig Bellamy continues for Wales," Giggs said.
"Because of the twin threat of both him and Gareth Bale going down the wing together with [Steve] Morison and [Aaron] Ramsey holding it all together in midfield, they are going to be a tough team to beat."