Aston Villa announce £53.9m loss for 2010-11 financial year
Last updated on .From the section Football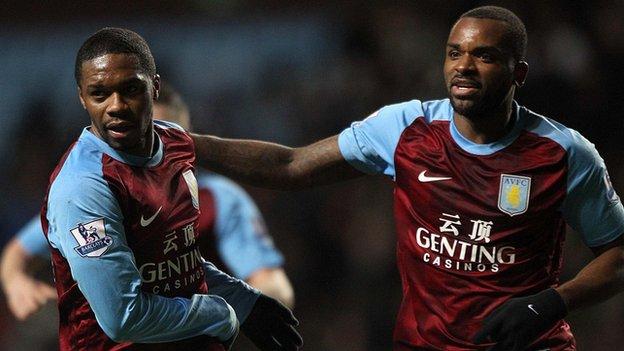 Aston Villa bosses insist they are satisfied with the club's financial position despite announcing annual losses of almost £54m.
It does not include money raised from the sales of England wingers Ashley Young and Stewart Downing last June.
Villa revealed total income had increased by 1.3% to a record £92m.
Chief financial officer Robin Russell said: "Given the challenging economic environment we're pleased with positive trends in our financial performance."
Villa confirmed the overall loss for the year up to 31 May 2011 represents an increase from £37.6m.
The figure includes the record £24m transfer fee spent to bring England striker Darren Bent to Villa Park in January last year.
The financial statement also showed Villa's commercial income had increased by 15.9% year on year.
The Birmingham club spent £12m on changes in the football management staff, while American owner Randy Lerner invested £25m. There was an £8.3m reduction in bank borrowings.
Russell added: "The board of Aston Villa are confident that the actions taken since the end of the 2010-11 financial year have galvanised the long-term sustainability of the club and have also given us a better financial platform on which to build for future success.
"Our objectives are to compete strongly on the pitch and to achieve sustainability as well as compliance with Uefa's Financial Fair Play requirements."
Meanwhile, former Villa loanee Robbie Keane has said the club's players are firmly behind manager Alex McLeish.
LA Galaxy striker Keane has returned to the United States after his seven-match spell ended with Saturday's 0-0 Premier League draw at Wigan.
The 31-year-old said he enjoyed working with the Scot, who has received a frosty reception from Villa fans since his summer switch from rivals Birmingham City.
"I know at the moment it's not going as well as probably he [McLeish] would like, and the club certainly," added Keane.
"But all you want in a manager when you work with someone is someone who is honest with you, and they don't come any more honest than him.
"He is desperate for the team to do well. At this time he has been getting a little bit of flack from the fans, but that doesn't reflect on how good a manager is.
"The only thing I could say is the players are 100% behind him. They really enjoy working with him.
"It's a transition period for Aston Villa and I am sure next season it will be completely different."