Ex-Scunthorpe United boss Ian Baraclough let down by Iron exit
Last updated on .From the section Football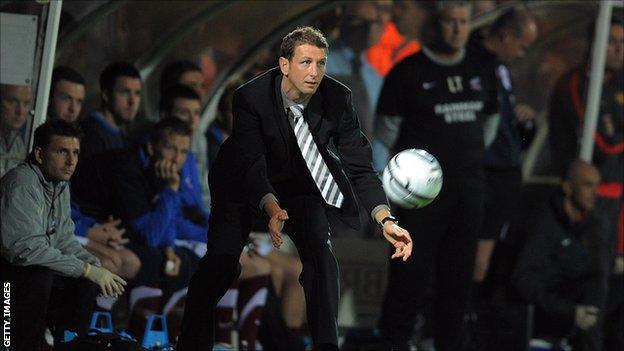 Ex-Scunthorpe United boss Ian Baraclough says he wants to prove people wrong at Sligo Rovers.
The 41-year-old has been appointed as the new manager of Rovers, 11 months after being sacked by United.
He told BBC Radio Humberside: "When anybody gets the sack it leaves a bad taste in the mouth.
"If you know it's a long-term project, how do you expect people to feel? You're not going to shake hands and say 'fantastic'," he added.
"Knowing football and having been in it a long time you live and learn and you know that there aren't any guarantees."
The former Notts County and Queens Park Rangers midfielder spent six months in charge of the Iron before being sacked in March 2011.
During his time away from management Baraclough has been scouting for Watford as well as coaching the youth team at Leicester City and says his time since leaving Glanford Park has been tough.
"You look back at things and you wonder what could have been done differently, what could have helped you and a lot of soul searching goes into it," he said.
"I knew the job at Scunthorpe was going to be a tough one. In the summer that Nigel [Adkins] went and left we lost our two main strikers, our main midfielder, another midfielder and a left-back that were the backbone of our team with 60 goals lost and we hadn't managed to replace that.
"It took us by surprise when we were sacked and you just want another chance to go and prove people wrong," he added.
Baraclough replaces Paul Cook as Sligo manager after Cook left to take charge at Accrington Stanley and he sees it as a fresh start.
"I'm joining a good club who have had two or three decent seasons," he said.
"This is something I really wanted to have a crack at and I look forward to it."