Sunday's Spurs game could define Man Utd's season - Ferguson
Last updated on .From the section Football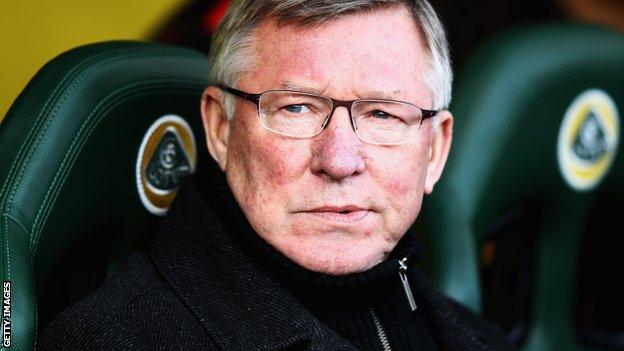 Manchester United manager Sir Alex Ferguson believes Sunday's league clash with Spurs could define their season.
If United can "survive" the trip to White Hart Lane, then Ferguson belives that his side will have a "big chance" of retaining the Premier League title.
"It's going to be a massive game at Spurs," said Ferguson. "If we can survive that, then we'll have a big chance of winning the league."
The Red Devils currently trail league leaders Manchester City by two points.
United and City are then due to go head to head at the Etihad Stadium on 30 April, in a game likely to determine the destination of this year's title race.
"I would take it being two points behind City going into the game at the Etihad Stadium," Ferguson told Inside United.
"I would rather go there on level points. But, if we could go there within striking distance of being top of the league, I'd take it."
As the season enters its final straight, Ferguson hopes that the injuries which have affected his squad in recent weeks are starting to clear, as United look to extend their record to a 20th English league title.
"I should have more players available than I've had in the last few weeks because we've had a terrible spell of injuries," he added.
"But we've done the right thing in the treatment of Chris Smalling and Phil Jones. We've given them a break.
"They are young players and had been carrying little strains for weeks.
"Then, all of a sudden, it hits them, and we had to take stock, to get them back.
"We've given them a fair break and they're fresh now."