Robbie Keane backs Cardiff City's Joe Mason for Republic of Ireland
Last updated on .From the section Football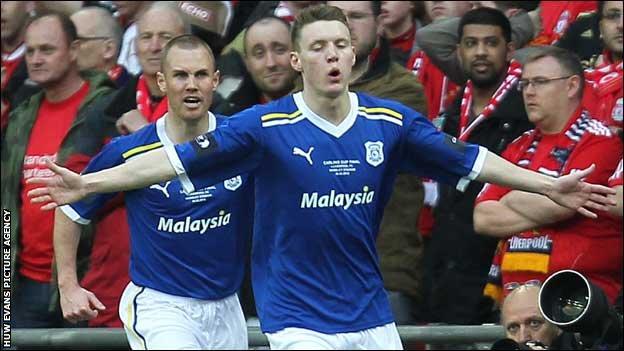 Robbie Keane has told young striker Joe Mason he will be rewarded with Republic of Ireland honours should he continue progressing at Cardiff City.
The 20-year-old enhanced his burgeoning reputation by scoring the Bluebirds opener in their narrow Carling Cup final defeat to Liverpool on Sunday.
Ireland captain Keane hailed Mason as "one of the best players on the pitch" and wants him to maintain his form.
"It is important that young players such as him come through," said Keane.
"Because the senior players are not going to go on for as long as we would like them to.
"I watched the game and he was certainly one of the best players on the pitch and he scored a great goal."
Keane will win his 114th Ireland cap on Wednesday when the Los Angeles Galaxy striker leads Giovanni Trapattoni's men in their friendly against the Czech Republic in Dublin.
The 31-year-old will skipper the Republic at the 2012 European Championships in the summer but Keane wants young players such as Mason to put pressure on their established internationals.
Mason has scored eight goals in his first season at Cardiff and his Wembley strike against boyhood team Liverpool came just 10 months after fighting a losing battle against relegation to League Two with Plymouth Argyle.
He made his mark in front of 90,000 at Wembley and countless millions worldwide by running on to Kenny Miller's cute pass to calmly slide a shot under Liverpool goalkeeper Jose Reina - a moment he has vowed never to forget.
"I'll remember that until the day I go," said Mason.
"I couldn't imagine, when I was playing for Plymouth Argyle last season, that this year I'd be playing and scoring at Wembley against Liverpool - the team I support. It's mad.
"It's really mixed emotions. To get a goal at Wembley is massive, I can't even explain it, but to lose the game is devastating."
Cardiff eventually lost their Carling Cup final to Liverpool after a penalty shootout but the Republic under-21 international, who joined , experienced his first taste of the big time at Wembley and now wants to grace the international stage.
Mason was born in Plymouth but is eligible for the Republic of Ireland as his mother was born in County Mayo.