Swindon boss Paolo Di Canio praises striker Paul Benson
Last updated on .From the section Football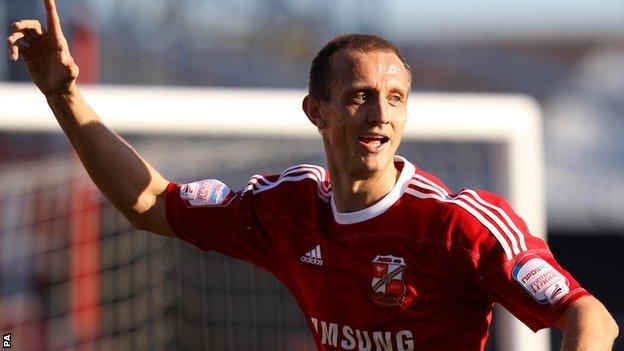 Swindon Town boss Paolo di Canio has praised striker Paul Benson after he notched the 100th goal of his career to help the Robins beat Burton.
Di Canio told BBC Wiltshire: "He's a perfect professional. I'd have him in any team.
"The way he looks after himself (means) he can play for at least another three years at this level."
The Swindon boss continued: "He has the desire, the professionalism and the sense of organisation. He's a natural goalscorer in the box but he also works so hard and pressures the opponent."
Benson has won every league game he has played for the Robins, with the 2-0 victory over Burton marking Swindon's 10th consecutive League Two win.
That run began in December and has moved the Wiltshire side four points clear at the top of the table, but Di Canio said the side could still improve.
"Sometimes we try to play with too much pressure, and always play the ball on the first touch," he said. "This is not football.
"My football principles mean that 90% of the football you play, you need to take two touches - that gives you the precision, the time and the tempo.
"You can play first touch in the opponent's box when you have to give a killer pass and risk it. But in the middle of the field playing first touch, 80% of the time you have the chance to lose the ball.
"It happened in the first half [against Burton].
"But in the second half we did absolutely fantastically."