Dartford hat-trick hero Danny Harris nearly misses game
Last updated on .From the section Football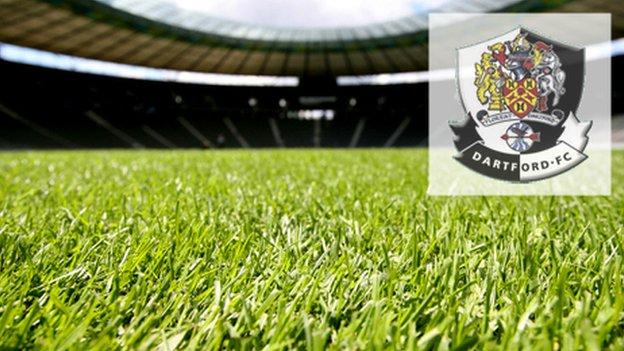 Dartford's hat-trick hero Danny Harris says he almost missed the game against Basingstoke Town because of an accountancy exam.
Harris scored helped Dartford to a 4-1 win which puts them to within nine points of Blue Square Bet South leaders Woking with a game in hand.
Harris told BBC Radio Kent: "I had a very tough accountancy exam.
"I dashed here and literally got here when he [manager Tony Burman] was doing his team talk."
He added: "If I'd missed the train I wouldn't have been playing."
Manager Tony Burman admitted that he was on the verge of dropping Harris when he heard he was going to be late.
"He didn't think he'd get to the ground until after seven because of an exam that he was taking through work," he said. "I texted him back and told him that if he wasn't here by quarter to seven he wasn't playing. He got here just after quarter to seven."
Harris's dash through the streets of Dartford was worth it as he scored the first hat-trick for the club.
"I scored one in the FA Cup for Bishop's Stortford, but two of them were penalties. It feels good, I'm really pleased with it. We held strong, second half we dominated, when we get the ball down we look a different side and I'm very happy with the result.
Despite the size of the gap between Dartford and Woking, Harris is not giving up on them becoming champions.
He said: "If Woking keep wining the title is theirs, you can't rule it out, it's out of our hands. Hopefully we do the job against Tonbridge on Saturday and get three points there and you never know."