Play game, not occasion - Sunderland's Craig Gardner
Last updated on .From the section Football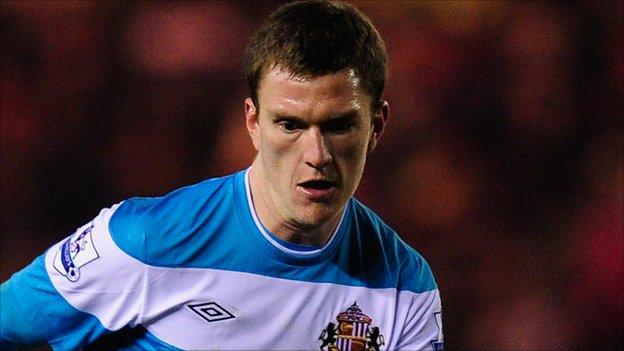 Sunderland midfielder Craig Gardner has said the players must "play the game not the occasion" in Sunday's Tyne-Wear derby against Newcastle United.
"It's a massive game and a massive occasion," Gardner told BBC Newcastle.
"The last thing you want is players playing the occasion, getting sent off and giving away sloppy goals."
He added: "You get giddy coming up to it, but once that whistle goes you just need to be professional and play your game."
Despite a 4-0 defeat by West Bromwich Albion in last week's Premier League encounter, Sunderland have lost only four league games since Martin O'Neill took over from Steve Bruce in December.
Likewise Newcastle are currently sixth in the top flight, winning four of their last seven games including a 3-0 home victory over defending champions Manchester United.
"People say that the teams up north struggle to attract players but both teams are in the top half of the table," Gardner continued.
"Both teams are in the best current form, it'll be a good game and there'll be some fireworks.
"But the best team on the day will be the one that is most controlled, and hopefully that will be us."