Mozambique hold advantage after 1-1 draw in Tanzania
Last updated on .From the section Football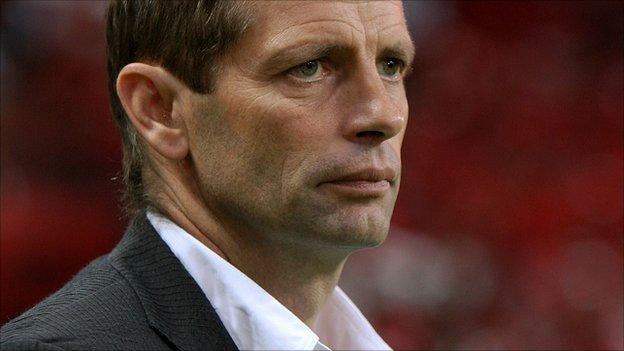 Mozambique coach Gert Engels believes his side hold the advantage after drawing 1-1 in Wednesday's 2013 Africa Cup of Nations qualifier in Tanzania.
The result means the Mambas will reach the final qualifying round if they can keep a clean sheet in June's return leg of the first round clash.
"We don't need to score - I think our chances are a little bit higher in the home game," Engels told BBC Sport.
Tanzania coach Jan Poulsen says his side were lucky to concede just once.
The Mambas took an early lead before Mwinyi Kazimoto scored a fine first-half equaliser.
"After the first five minutes, we didn't play well defensively for the next 10-15 minutes and they could have scored more than one," the Dane told BBC Sport.
"It was a very easy goal they scored and that's a surprise to me because we played very well defensively against DR Congo (in last week's goalless draw).
"But we worked ourselves into the match and got the equaliser. We were the better team in the second half - and should have scored again - but we didn't and that's football."
Despite failing to make full use of home advantage, Poulsen says his team can still progress to this year's second and final qualifying round.
The East Africans have failed to contest a Nations Cup since reaching their first finals in 1980.
"When we walk onto the pitch in Maputo, it's 1-1 - and we can win the match of course," he rallied. "I have to give credit to my players. I think they worked extremely hard to see if they could win this."
Meanwhile, Engels was disappointed with a host of chances missed by his side, who last qualified for the Nations Cup in 2010.
"The first half was ok but I was not happy with the second half," the German said. "In front of goal we had two or three big chances which we missed.
"But the result is ok because we scored a very important away goal."
The return leg of the match will take place on the weekend of 15-17 June, with the final round of qualifying concluding in October.