Port Vale hit by winding-up petition
Last updated on .From the section Football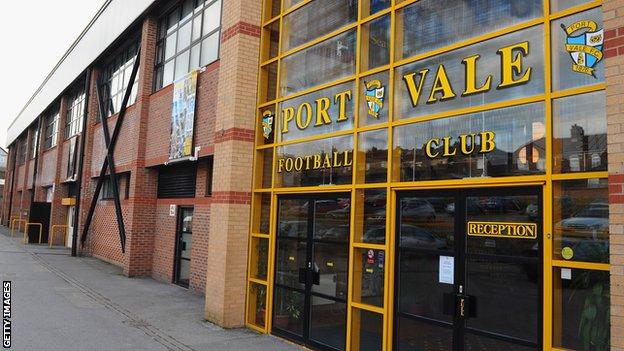 Port Vale have been served with a winding-up petition by HM Revenue & Customs over an unpaid tax bill.
Stoke-on-Trent City Council have been asked to help the Staffordshire club enter administration, which would result in a 10-point deduction.
The club, who are under a transfer embargo, are behind on their loan repayments to the council.
Another creditor could yet apply to put the club into administration before HMRC's winding-up petition is granted.
Vale do not have the number of directors needed, by law, to function properly after former chairman Peter Miller resigned as a director earlier this week,.
A 10-point deduction would send them down to 16th in the table - 11 points above the relegation zone, with 14 games remaining.
Vale boss Micky Adams said: "I'm massively disappointed with what's going on. I think it's going to get worse before it's going to get better.
"If the rumours are true then tomorrow morning, instead of pushing for the play-offs, we need to win games to stay in the League."
Vale defender Gareth Owen told BBC Radio Stoke: "It's a terrible time. At the minute we don't see any light at the end of the tunnel.
"This is League Two and you live hand to mouth. We had no idea at all [that we would not be paid] which is the most frustrating aspect for the lads and has made them very angry.
"I've been speaking to the PFA [Professional Footballers' Association] to see what they can do but that will take time, so we'll have to survive for the next couple of months without any income at all."
HMRC told BBC Sport that they would not discuss individual cases, but said all clubs have a responsibility to pay their taxes on time.
"Any business that regards paying tax as an optional extra after other expenses are met, or that uses tax collected from employees or customers as working capital, is potentially heading for trouble," said HMRC.
"It is only fair to those clubs and to other taxpayers who do meet their obligations that HMRC enforces payment of tax debts owed - and if need be, issues a winding up petition or seeks to appoint an administrator.
"There is little HMRC can do for a business - be it a football club or not - whose viability is dependent either on not paying the UK taxes to which they are liable, or on special treatment not available to other customers with similar tax affairs."
Vale last went into administration in 2002 and were brought out of it in 2003 under a supporter-based group called Valiant.
In 2006, singer Robbie Williams invested £240,000 in the cash-strapped club.