Trevor Brooking backs FA skills drive for future England teams
By Matt Slater
BBC Sports news reporter
Last updated on .From the section Football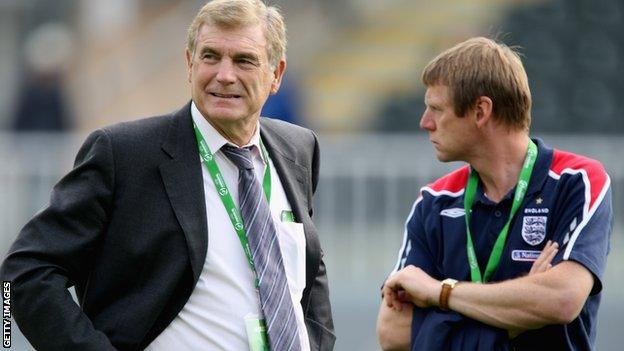 Sir Trevor Brooking believes England can look forward to a brighter future thanks to a greater emphasis on technical skills at youth level.
With no senior success since 1966, England's best players have been caught out on the international stage by teams which control and pass the ball better.
But Brooking says a major push on age-specific coaching by the Football Association is starting to bear fruit.
"We're in a lot better state now," the FA's director of development said.
"We are getting into the top three or four in Europe for young players.
"I would like to think that in four to six years - at the 2016 European Championships in France or 2018 World Cup in Russia - whoever is charge of the team will have much more depth to choose from.
"I can't say we're going to start winning tournaments but I do think we'll be competitive with Spain, Germany and the Netherlands."
Brooking was talking shortly before England's friendly against the Netherlands at Wembley, a game the Dutch won 3-2 thanks largely to two moments of quality from Arjen Robben, the kind of player the British game has struggled to produce in recent years.
Former England and West Ham maestro Brooking, however, pointed to the success of the FA's partnership with Tesco as an example of how standards are rising.
Set up in 2007, the FA Tesco Skills programme provides expert coaching for children aged five to 11. These sessions are led by a network of 106 full-time FA coaches and they cost no more than £2 a time, with free taster sessions held during the school holidays.
The programme was initially scheduled to run until 2010 but was extended for four years with a budget of £17m provided by the FA, Sport England and the supermarket giant.
At the end of last year, the total number of places taken up at these sessions was over three million, with 42% of those being girls and 2% being disabled children.
"We had problems with school sport in the 1980s and 90s so the Tesco Skills programme is an attempt to give children access to age-appropriate coaches and courses," Brooking explained.
"It's trying to encourage youngsters to play with the ball, do individual skill work and work on their physical literacy - twisting, turning and so on. We want them to be comfortable on the ball."
That, of course, has been the wish of every England football fan, and manager, for over 40 years. Brooking, however, would not be drawn on who that manager might be at this summer's European Championships.
"We will sit back after this game and look at how we're going to take it forward but we're not in a rush," he said, before adding something that might disappoint caretaker manager Stuart Pearce.
"There's a lot of sensitivity with club football at the moment so we'll take our time."