Gers' administrators resume talks with players over redundancies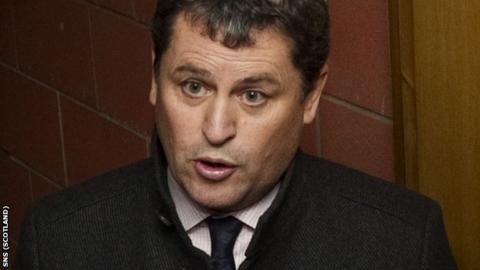 Rangers' administrators are continuing talks at the club's training ground in an effort to secure a wage-cut deal with players and staff.
David Whitehouse of Duff and Phelps emerged from Murray Park late on Tuesday after what he described as a "very frustrating day" of talks.
BBC Scotland believes seven or eight players have yet to agree to a deal, which has caused the delay.
Earlier, Gregg Wylde and Mervan Celik left the club voluntarily.
The BBC has been told that the club's biggest stars are being asked to take wage cuts of 75%, middle earners 50% and the lower paid members of the squad 25%.
The administrators said that an agreement in principle on the salary reductions had been reached earlier on Tuesday but it is understood that personal conditions, such as whether players would be able to leave in future, were the sticking point.
The full administrators' statement said: "Today has been a very frustrating day.
"Earlier in the day, we believed we had agreed in principle a basis of cost-cutting measures with the players accepting substantial pay cuts and we are very grateful for their efforts in reaching that point.
"Sadly this evening we have been unable to reach agreement on the personal conditions sought by the advisors to the players in respect of those wage cuts.
"There is still some hope these issues can be resolved first thing in the morning but it is extremely disappointing we haven't been able to get there tonight."
It is understood the players, who are among the highest earners at Ibrox, have been unable to agree changes to their contracts in return for the cuts in salary they are being asked to take.
Wylde, 20, and Celik, 21, had their offers for voluntary redundancy with no pay-off accepted.
Duff & Phelps spent the day meeting the squad in a last-ditch attempt to agree on wage cuts as the club strives to make monthly savings of £1m.
Some players have agreed reduced terms to stay but with incentives.
These include free transfers in the summer or being allowed to leave for reasonable offers.
Wylde told BBC Scotland on Tuesday: "I volunteered to walk with no redundancy package today to help the other people in the club who have families, like the kitchen staff.
"I offered to walk away yesterday and the club told me today that they would accept that offer.
"At the moment I have nowhere to go and I don't have another club.
"I don't know what is going to happen next but I thought it was important to play my part in saving Rangers."
Celik is a Sweden Under-21 international attacking midfielder who moved to Ibrox from GAIS in Gothenburg on a three-and-a-half year deal in January.
Duff & Phelps had delayed previous deadlines over cuts with negotiations between the firm, players and union protracted.
Both Wylde and Celik will now seek contracts at other clubs and Scottish Premier League chief executive Neil Doncaster says they and any other player made redundant could still be registered to play before the end of the current season.
"There are probably some countries still around the world where the transfer window remains open so that would be a potential opportunity for them," Doncaster told BBC Scotland.
"For them to go to a country like England, for example, where the transfer window is closed then they'd need to get special dispensation from Fifa because effectively they'd be coming in outside of a transfer window.
"Typically, where a club has been in administration and players have been made redundant that hasn't been a problem, it's been something that Fifa has tended to do."
Rangers' administrators came to an agreement with Dunfermline to pay them the £83,000 owed for ticket sales.
Duff & Phelps are also pursuing Rangers owner Craig Whyte for up to £9m in money contractually promised at the time of last year's takeover.
Lawyers acting for the administrators have gained a court order to seize a preliminary £3.6m from Whyte's solicitors Collyer Bristow.
The administrators' David Whitehouse said on Saturday: "It's most unlikely that cash will be released to the club in time to address this issue [job cuts].
"We're continuing to investigate monies which we believe should've been brought into the club."
On potential buyers, Whitehouse said his firm hoped "to get some real progress" but admitted getting the club out of administration with signed-off accounts by the end of March was "going to be a challenge".
The ability to meet the 31 March deadline will dictate whether Rangers can take part in European competition next season.
BBC Scotland has learned that the club's running costs between now and the end of the season are about £10m and the administrators have highlighted the need to fill a shortfall of £4.5m by the end of the campaign.
Another potential source of income for Rangers would be to sell players to clubs in countries that still have their transfer windows open, and discussions are ongoing with several teams.