Stoke City to subsidise fans for Liverpool FA Cup quarter-final
Last updated on .From the section Football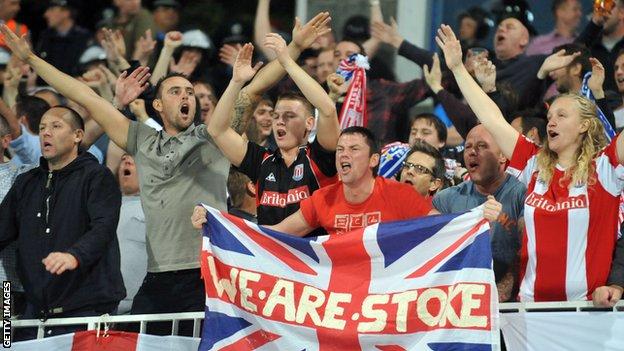 Stoke City will subsidise their supporters for the televised FA Cup quarter-final at Anfield this month.
The Potters have waived their right to 45% of the away ticket sales so they can offer tickets to fans at £20 - up to 6,000 fans could travel to Anfield.
Club officials made the move after deciding the £35 ticket price set by Liverpool would "put people off".
"We are aware of the difference that backing can make to our hopes," said Stoke chief executive Tony Scholes.
"Our players will get a tremendous lift when they see the entire lower tier of the Anfield Road Stand filled with 6,000 fans, helping to create a great atmosphere."
This is the third year in succession City have reached the last eight of the competition, and the club is hoping fans can give them the boost to repeat last year's appearance in the final.
"[The offer] helps our fans and, in turn, we know they will help the team by giving them fantastic support," Scholes told City's website.
"It would be wonderful to think we could get back to Wembley again and we believe this offer is a cost worth bearing to give us every chance of achieving that aim."