Dunfermline players paid after debt deal with Rangers
Last updated on .From the section Football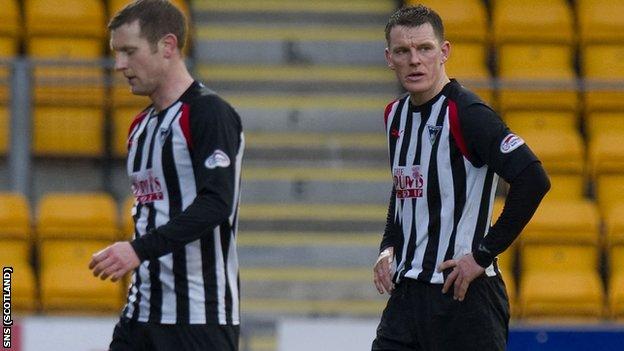 Dunfermline have paid players and staff their full wages for last month after agreeing a deal with Rangers' administrators over a tickets debt.
Players received 60% of their salaries after the unpaid £84,000 bill sparked a short-term cashflow problem.
The Fife club say they have now received an undisclosed sum, with the remaining balance due by the 13 April.
Players' bonus money remains outstanding but the club say this will be addressed within 10 days.
"Dunfermline are quite happy with our discussions with the administrators," said chairman John Yorkston prior to the announcement.
"We have come to an agreement with them. They are happy and we are happy, but there is not an immediate fix."
Director of football Jim Leishman told BBC Scotland on Thursday that the overdue ticket cash for the Scottish Premier League match in Fife on 11 February was not the sole reason for "an awkward week" at the club.
He admitted that cashflow was a problem but said administration has not been spoken about at East End Park.
"The Kilmarnock game was postponed, we also had storm damage and then the situation with Rangers," said Leishman.
"It's a temporary setback."
Leishman said that the football bodies in Scotland are trying to help clubs ease their financial burden but if more fans turned up at games that would have an immediate impact.
"The SPL are having meetings all the time, as are the SFA and the SFL but its well documented that the fans are not turning out in as great numbers as the past and that has caused the problem," he added.
"You set your budget out at the start of the year and account for so many fans to turn up but if there is a shortfall then you cannot make that up quickly."