Football Kenya hit back at Mariga in payments row
Last updated on .From the section Football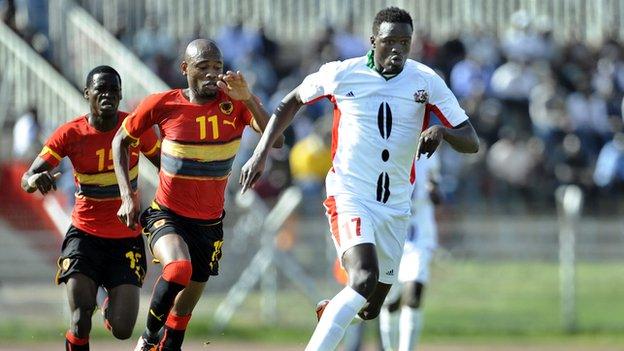 Kenya's football authorities have hit back at star midfielder McDonald Mariga after he boycotted an Africa Cup of Nations qualifier.
The player pulled out of the squad to face Togo on Wednesday in a row over unpaid expenses.
The Football Kenya Federation (FKF) said it was "saddened by the way he handled the matter" but praised the rest of the team, who won the game 2-1.
An FKF statement said Mariga had "failed to understand" the situation.
Mariga pulled-out of the squad after saying he was owed around $20,000 (Ksh 1.5 million) in expenses from previous trips to join up with the national team.
The governing body points out that it only took over the running of the game in the country last October, after a long-running dispute over who should have control, and says its predecessors have not handed over the information it needs.
It says it promised to pay the players' outstanding arrears but that Mariga said he would boycott the Togo game unless he received his money.
"We informed him the matter was being looked into and it will be handled amicably [but] he went to the media and decided to walk out of the team," the FKF statement said.
The FKF says Mariga had claimed for matches he would not have been able to take part in.
It says the player had turned up to a game against the Seychelles injured and asks "does he expect the federation to pay for his ticket?".
"Then on the Togo game, he arrived, never trained and never played and walked out - can we also pay for this?", the Federation asks.
The FKF says it will deal with all the outstanding claims from players, including Mariga, once the information on what they are owed is handed over by the previous administrative bodies.
It finishes by saying that Mariga is not banned from the national team and "is free to play...if the coach needs his services".