Republic of Ireland players accept reduced Euro 2012 bonus
Last updated on .From the section Football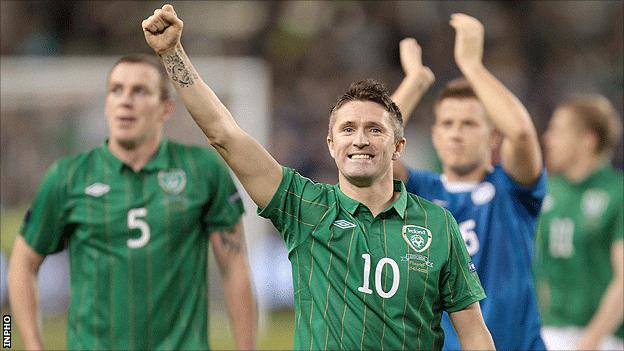 Republic of Ireland players have agreed a reduced Euro 2012 qualification bonus deal because of the current economic climate, the FAI has confirmed.
It is believed skipper Robbie Keane and his team-mates settled for less than was paid when the Republic reached the 2002 World Cup finals.
Reports suggest the package could amount to two million euros, depending on how they fare in Poland and Ukraine.
The Republic's group contains Spain, Italy and Croatia.
An FAI statement revealed the deal with the players had been struck on Monday, two days before the friendly against the Czech Republic in Dublin.
"During the discussions, the players emphasised the immense honour and pride which they feel in representing the country through this and previous campaigns," it said.
"In recognition of the wider economic climate, the players were happy to agree to a reduction in qualification payments made in 2002."
Keane was asked about the issue at Tuesday's pre-match press conference.
He said: "There is no problem at all. There will be a statement coming out in the next couple of days and everything, I am sure, will be clear.
"It was a short meeting, that's all I will say, and very positive."