Alex McLeish says he is unfazed by criticism from Aston Villa fans
Last updated on .From the section Football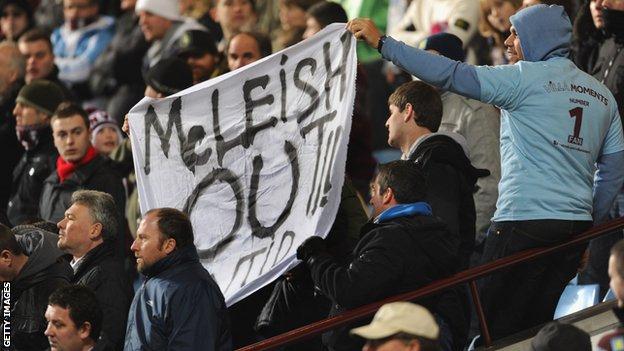 Aston Villa manager Alex McLeish insists that he can cope with criticism from sections of the club's support.
That show of dissent was the latest in a line of incidents since McLeish's summer move from rivals Birmingham.
"I believe I'm strong enough and I've got the experience to handle it," said the former Rangers and Scotland boss.
Protests against McLeish began before his announcement as Villa manager.
In June, about 1,000 supporters staged a demonstration at Villa Park against owner Randy Lerner's decision to push through a move to get him.
And the announcement of annual losses of £53.9m, coupled with Villa's current lowly position of 15th in the Premier League and the loss of record signing Darren Bent for the rest of the season, has soured the atmosphere further.
Despite the setbacks, Villa are eights points clear of trouble and, ahead of Saturday's trip to Blackburn, McLeish declared that he remains determined to turn the situation around.
"It's never stopped me," he added. "I've never wavered in my commitment to Aston Villa, in terms of helping the club, working with the club, and the course we are taking.
"Of course, I'd be lying if I said it didn't bother me, that it was easy to handle and there was no pressure whatever. That would be total fabrication.
"At the moment it is a bit gloomy, with the financial figures coming in and the fans showing a bit of dissent at the moment. A few never really fancied me coming in in the first place.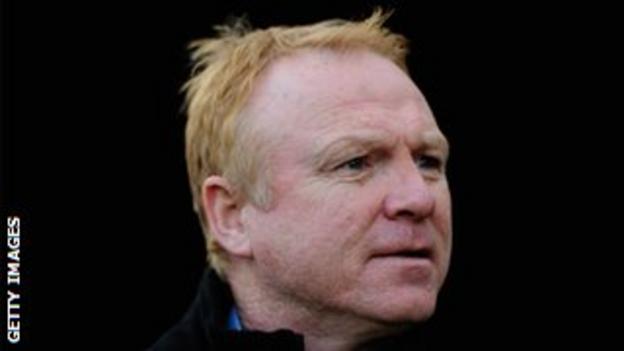 "But, if the fans can leave their grievances for other situations rather than during the 90 minutes and support every player, it would be great."
Much of the Villa fans' anger towards McLeish has stemmed from perceived negative tactics, having scored just 29 goals in 26 games this season.
"I have never put the shackles on the lads," he said. "I never have done since the start of the season.
"Yes, I want them to get back and defend and help out other parts of the teams, just as every other major team in the world does - the Barcelonas and Manchester Uniteds of this world.
"But I never put any shackles on anybody and asked them not to go and score goals and play their best football.
"My biggest desire is to make Aston Villa fans happy. I want to turn that corner."