Goal-line technology edges closer
By Richard Conway
BBC Sport
Last updated on .From the section Football
Two companies will proceed to the second phase of goal-line technology testing following a decision by the International Football Association Board (Ifab).
Goalref and British-based Hawkeye will now undergo further examination in "multiple scenarios" between March and June to test their accuracy in simulated match conditions.
The game's law-makers met this weekend to discuss the independent test results of eight systems and map out the next stages of its potential introduction.
The Swiss standards institute EMPA conducted the tests between September and December last year.
The Adidas-backed Cairos system - which involved the use of a microchip inserted into the ball - has failed to pass phase one of the strict conditions established by Fifa.
The Rochdale company Goalminder has also failed.
A final decision will be made on adopting goal-line technology in a specially convened Ifab meeting in Kiev on 2 July.
Provided one or more pass phase two, the General Secretary of the Football Association, Alex Horne, said: "We expect to pass goal-line technology into the laws of the game."
The Ifab have also declared goals scored from uncontested drop balls will not stand and have agreed in principle that the ban on hijabs being used while playing football can be overturned.
Safety tests will be conducted on headscarves, with a decision on their legality also expected at the meeting in Ukraine.
The decision to push ahead with technology came after Fifa, football's world governing body, dropped its long-standing opposition to its introduction in 2010 following Frank Lampard's controversial disallowed goal against Germany.
In order to pass the first phase of tests, each of the eight companies had to demonstrate that their technology adhered to benchmarks set by Fifa.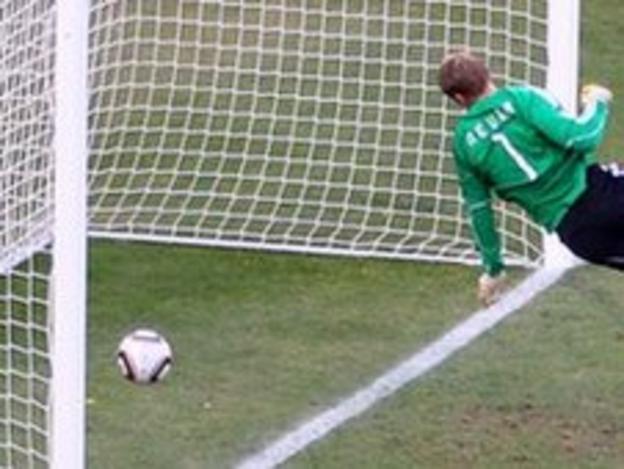 These include notification of a goal being sent to the referee's watch within one second of the ball crossing the line and strict standards on accuracy.
The tests between March and June will incorporate a practical examination of how each system reacts in simulated match situations.
Fifa is keen to see how the proposed technology fares with such factors as poor weather conditions, muddy and artificial pitches, games played under floodlights and players moving or standing close to the goal-posts.
BBC Sport has learnt that a licensing system for any approved technology could be introduced at that stage to ensure quality control and to prevent counterfeit systems being sold to football federations seeking to introduce goal-line technology.
If one or more systems receive final approval in July, it leaves open the possibility that goal-line technology could be introduced as early as August 2012 in competitions such as the Premier League.
Speaking in November last year Horne told BBC Sport that he would welcome such a move.
"Goal-line technology would be a huge boost for the game," he said.
"For years, we've thought this was a good addition to referees' armoury."
"It's possible we could see it in the Premier League as early as 2012-13."
Another scenario could see goal-line technology introduced in less high-profile competitions or Fifa regulated youth tournaments with the aim to introduce it widely in time for the 2014 World Cup in Brazil.
Fifa dropped its long-standing opposition to the use of technology after Frank Lampard was wrongly judged not to have scored for England against Germany in the second round of the World Cup in South Africa in June 2010, after his shot hit the bar and bounced down more than a foot over the line.
Fifa president Sepp Blatter apologised to the Football Association after the incident.
"It is obvious after the experiences at the 2010 World Cup it would be a nonsense not to reopen the file on goal-line technology," said Blatter.
But Uefa president Michel Platini is opposed to its introduction believing that it is wrong to implement systems due to what he sees as the infrequency of goal-line incidents within games.
He remains in favour of using additional assistant referees - currently being trialled in the Champions League and Europa League.
Any rule change by Ifab requires a 75% majority vote.
The FA, the Scottish FA, the FA of Wales and the Irish FA all receive one vote each, with Fifa, who act as representatives for the world's other football associations, holding four.
Six votes are therefore required to change any law, meaning that Fifa's support is necessary for any proposed amendment.