Oxford United loss strengthend Swindon Town - Di Canio
Last updated on .From the section Football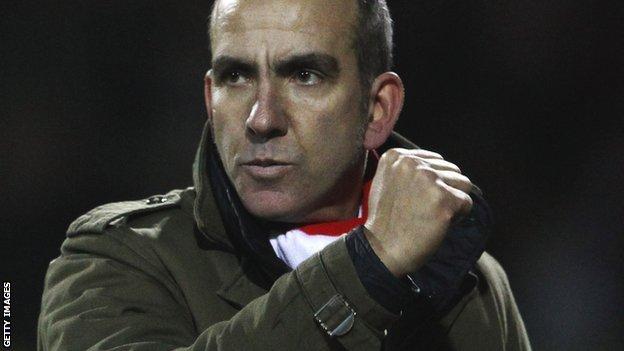 Paolo di Canio says Swindon's home defeat by Oxford earlier in the season helped them become a better side.
They have only lost only four League Two games since they last met the U's and currently sit top of the table.
"It was a medicine for us," manager Di Canio told BBC Wiltshire. "In a way, they helped us become stronger."
He added: "I want to thank them for this because since that day we've become more of a unit.
"The damage they did to us gave us more togetherness. We came out from a bad moment and became stronger. In some ways they have built what we are now."
Over the course of the season, the rivalry between the two promotion chasers has increased, with the future of Oxford striker James Constable being the main catalyst.
Swindon tried to lure the 27-year-old to the County Ground during the January transfer window, making a substantial bid for the U's top scorer.
Constable, who scored both goals in the August defeat, declined to enter talks with the Robins and Di Canio has now said he will not be re-visiting the deal.
"It's clear that he wanted to come, that is not my opinion it is fact," said the Italian. "I said at the time if he still wanted to come I wouldn't have him. If he hesitated then I didn't want him to come. He's an Oxford player and I respect this. It's not in my mind anymore.
"When I cut, I cut. Even if he becomes one of the best players, I'm cutting. For me he is a player who is cancelled from my list for the rest of my career at Swindon.
"But that's not in an angry way. He plays for Oxford and I hope he can have a good career for himself but I don't want him to score against us."