Sunderland manager Martin O'Neill targets Tyne-Wear success
Last updated on .From the section Football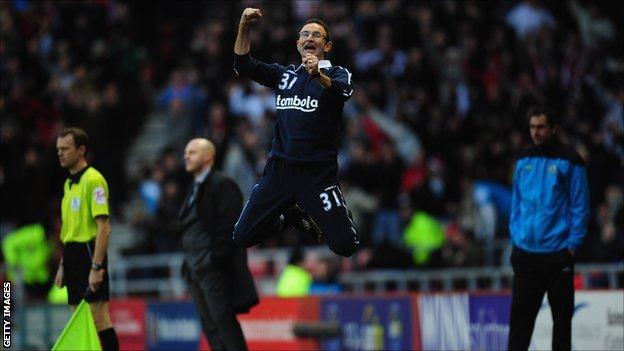 Sunderland manager Martin O'Neill knows a thing or two about derby fixtures.
He has masterminded victories in various East Anglia, East Midlands, Old Firm and Second City encounters during his career and on Sunday, will look to add a Tyne-Wear success against Newcastle United to that collection.
However, history suggests it will not be easy.
The last time the Wearsiders made the short journey to face their fierce rivals in October 2010 they were beaten 5-1, and they are without a win on Tyneside since November 2000.
"I've experienced an awful lot of derbies as a player and a manager, and obviously a very big derby in terms of European, if not world football, in the Glasgow derby between Celtic and Rangers," O'Neill told BBC Newcastle.
"This is a particularly big game, there's no denying that, it's a ferocious derby and probably played at great pace.
"Given the result on the last occasion it was played there, you would be going in with some trepidation.
"I haven't had a chance to look at what the team consisted of from that day, but seemingly speaking to people it was one of those cases where we froze on the day, the players never performed and that's something we want to avoid.
"We have to go to compete. If we don't compete we'll lose the game."
The Northern Irishman, 60 earlier this week, was particularly successful north of the border with Celtic.
Not only did he lead the Bhoys to three league championships, three Scottish Cups and a Uefa Cup final, but he also made the Old Firm clash against Rangers a happy hunting ground with 16 wins from 27 matches.
"The Old Firm games really are something special, the first one I did we won the game 6-2 and Chris Sutton scored a goal without three minutes to go to make it 6-2 and it was the first moment I thought we might win.
"Every single moment there seems to be something happening... but it's not just that, you're carrying the hopes and expectations and ambitions for everyone concerned for the football club," O'Neill explained
"If you lose them you feel pretty lousy for a long, long time, of course if you win then you feel terrific, but the first feeling might actually be relief that it's over.
"In Scotland in the SPL you play four, and there's a possibility of being drawn against each other in the cup competitions, but here it's down to the two per season.
"You really have to put everything into those games."
O'Neill's current side start the weekend three places and 10 points behind their north-east rivals in ninth spot in the Premier League table, with fans desperate to secure bragging rights and gain ground.
"What I could never really understand about some supporters is that it was the be all and end all," O'Neill said.
"Some supporters of Celtic actually felt that if you could beat Rangers in the game, it didn't matter if you won the league or not, and I could never subscribe to that viewpoint.
"I think what they meant to say is that it's so passionate you want to win the games and feel on top, and I think that's going to apply on Sunday.
"It's a massively big game, you've got to be ready for that, we're playing away from home and it's difficult enough.
"A result would be very important, I'd like to think that if we lost the game it wouldn't be the ruination of our season, but at the same time winning in the game doesn't mean we can plough on regardless and everything in the garden is rosy.
"It's still a big game and one we're looking forward to."
O'Neill's opposite number Alan Pardew has leaned on assistant manager and local man John Carver to ensure Newcastle's players are fully aware of the significance of the match.
"Once you turn up at one of those games, you get to understand it," said the Wimbledon-born manager.
"I'm never going to understand it quite as much as a Geordie fan who has been watching his team for 40 years or 10 years, I am never going to have that kind of feeling that they have.
"But I have to understand it and I do understand it. John Carver has made our responsibilities very, very clear this week, and I shall make sure we follow them through, hopefully.
"The message is loud and clear with our players. The ultimate thing is not to get wrapped up in it, though, when we play.
"You need to have an intensity to match the occasion, but you also need to be able to play and you need a different mindset for that.
"We need to get the balance right between intensity and having the calmness to play."