Coventry City hit by transfer embargo
Last updated on .From the section Football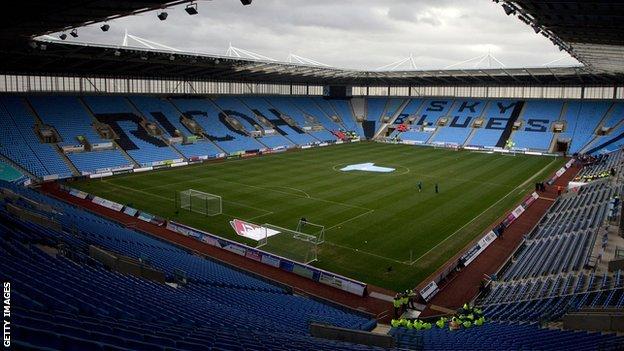 Coventry City have been placed under a temporary transfer embargo for failing to file their accounts in time.
However, the club's board insist that the situation is not serious.
"As part of the accounts submission process we have to be able to show committed funding out for the next financial year," chief executive Tim Fisher told the club website.
"We could not do this as we are still in the process of agreeing and negotiating budgets with the owner."
He continued: "There is nothing untoward about this and it is perfectly normal to be negotiating funding with the owner. We would hope to secure funding commitments in the very next few weeks.
"The owner has previously funded the club for a period of more than four years and, is currently reviewing our budget proposal for the coming year.
"We totally understand and appreciate that supporters might be concerned, but while the situation is far from ideal, we are confident it will be resolved very soon."
Coventry's owners Sisu are unpopular with some of the club's fans, who have campaigned for months for a change in ownership.
City avoided going into administration by just over 30 minutes in 2007 when Ray Ranson took over the club, while they needed a cash injection from Sisu last March to avoid a similar situation.
The announcement came hours after manager Andy Thorn was ordered to rest after being taken ill with a virus during training.
Coach Steve Harrison will take charge of the Sky Blues for Saturday's derby against Leicester City.