Birmingham City placed under transfer embargo
Last updated on .From the section Football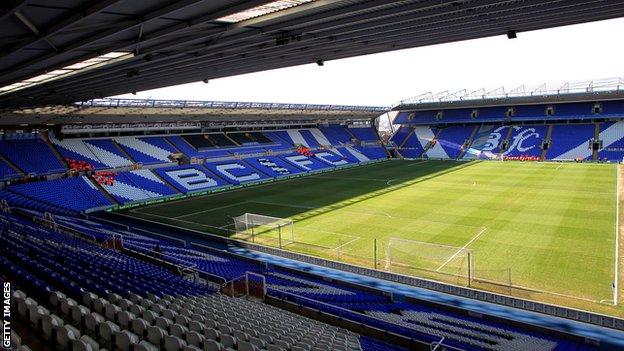 Birmingham have been placed under a transfer embargo for not filing their 2010-11 accounts in time.
A club statement read: "As has been widely reported, Birmingham International Holdings Limited is expected to publish the financial statements by the end of April 2012."
Blues owner Carson Yeung was arrested in June on money laundering charges.
His trial is in Hong Kong in November.
The statement added: "The delay in filing the financial statements is occasioned due to the delayed audit processes, with both the club and the group holding company having to handle a series of audit issues, together with the financial issues thrown at the club due to the arrest and freezing of the assets of the club's main benefactor and changes to banking arrangements.
"The draft financial statements are prepared and it is understood that these will be finalised and published by the end of April.
"This short period of delay in submission, and the resulting transfer embargo, does not affect the business of the football club at this present time.
"Having captured the signatures of several more players in the last couple of weeks, the club is satisfied with the strength and size of the playing squad, which has been sufficiently reinforced to assist with our end of season push."
Blues' divisional and West Midlands rivals Coventry also suffered a transfer embargo for the same offence.