Watford's Stephen McGinn 'stronger' after year out
Last updated on .From the section Football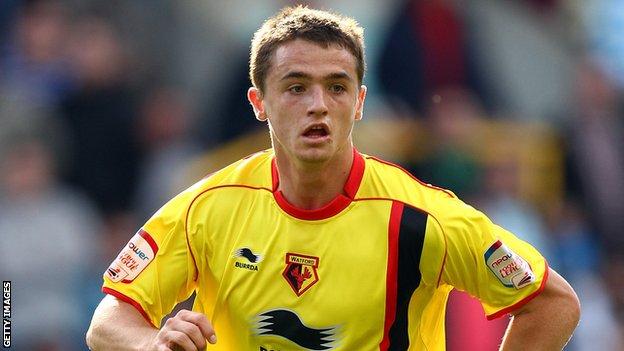 Watford midfielder Stephen McGinn has returned to action after a 12-month lay-off insisting that he is more robust now than he has ever been.
The 23-year-old played 45 minutes of a friendly against Southampton on Tuesday, a year after requiring reconstructive knee surgery.
"I actually feel stronger than I was," he told BBC Three Counties Radio.
"My knee feels different to the other one, but it was rebuilt. I feel good and stronger than when I got injured."
McGinn suffered the injury during a 1-1 draw against Doncaster in February last year.
The Scot had been influential for the Hornets up until that point, featuring in all but four of his side's games before his season was brought to an early conclusion.
"When the injury first happens," he said, "you think 'I'm going to get back as soon as possible'.
"But I found it really hard not being a footballer. My weekends have all been the same for the last year. I honestly wouldn't wish it on anybody.
"I'd never had an operation before. Early on you start to worry about 'what if they put the knife in the wrong place?' Stuff like that goes through your head.
"But I trusted the physio and he assured me the doctor was the best in the country."
It will still be a "few weeks" until McGinn is ready to return to Championship action, but the midweek run-out against the Saints, which Watford lost 1-0, was a step in the right direction for the former St Mirren man.
"It was a great feeling. It was a game I've been thinking about for a long time," he added.
"It's been a major target in my mind to get back involved in training and then my first reserve game. It's a big milestone I've just got over."