Carlos Tevez at least two weeks from return - Roberto Mancini
Last updated on .From the section Football
Manchester City manager Roberto Mancini says striker Carlos Tevez is at least two weeks away from being fit enough to play for the club again.
"At this moment he can't play," admitted Mancini. "Maybe in two weeks he could be ready."
Tevez, 28, has not been on the park for City since their Carling Cup tie with Birmingham on 21 September.
Tevez was then accused of refusing to playin the Champions League tie against Bayern Munich six days later.
But Mancini revealed last week that he has accepted Tevez's apology for his conduct and the matter is now closed.
Tevez returned to training following the end of his dispute with the club in mid-February and had a run-out with the reserves earlier this week against Preston North End.
The Argentinian spent more than three months away without the Premier League leaders' permission and the Italian believes he is still short of match fitness.
"I think he needs a minimum of another two weeks," added Mancini.
"In these two weeks it is important he plays two or three games with the reserves. He needs to play on a big pitch.
"For him it is like pre-season. After three months, it is not easy to play."
Mancini's declaration would definitely rule Tevez out of Saturday's league clash at the Etihad Stadium against Bolton Wanderers.
Even if fit, the Argentine would not be able to feature in Tuesday's Europa League quarter-final at Sporting Lisbon as he was not named in City's squad for the competition.
A more likely return date is the home league clash with Chelsea on 19 March.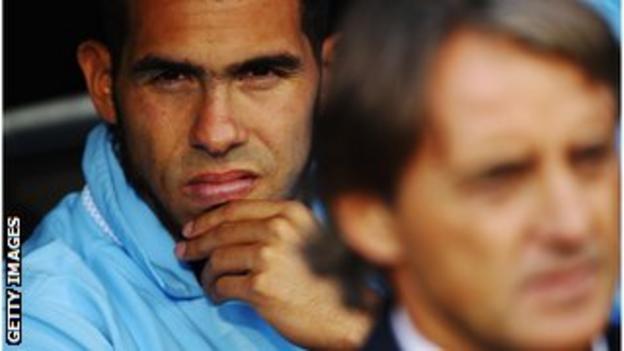 When asked if the pair had met and put their problems aside, Mancini replied: "Yes, we did everything."
Mancini also insisted that fellow striker Mario Balotelli should heed the words of Italy head coach Cesare Prandelli, who left him out of the squad to face the United States on Wednesday due to indiscipline.
Despite scoring 13 goals in all competitions, including the opening goal in last Saturday's 3-0 Premier League victory against Blackburn Rovers, the 21-year-old has been sent off twice for City this season and has missed eight games through suspension.
"I think it is correct," said Mancini. "We know that Mario is a top player but he should improve his behaviour.
"For the national team it is important. When you go to play in the European Championship and you only play three or five games, you should have good behaviour.
"Mario is the best Italian striker, for sure - 100%."