Arsenal manager Arsene Wenger wins manager of the month
Last updated on .From the section Football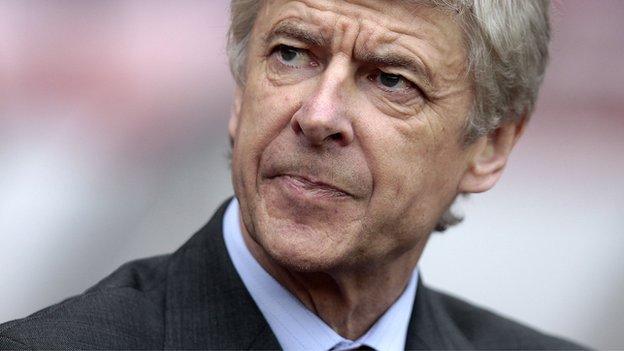 Arsene Wenger thought it was a case of mistaken identity when he was named Premier League manager of the month.
Wenger's Arsenal side suffered a heavy Champions League defeat by AC Milan and crashed out of the FA Cup, but were unbeaten in the league in February.
"If you had read the newspapers in the last two weeks, you must say there is a mistake. I thought they were speaking to somebody else behind me," he said.
"It was a complete shock to me. I couldn't understand that at all."
But the manager of the month award is also based purely on league form - and Arsenal picked up 10 points from their four matches.
They drew with Bolton but followed that with wins over Blackburn,Sunderland, their FA Cup conquerors, and last weekend's astonishing 5-2 North London derby victory over Tottenham Hotspur to climb into the top four.
Having presided over one of the most testing periods of his 15-season reign, Wenger's 12th manager of the month award did allow him to jocularly delve into a bit of light-hearted self-analysis.
And, having enjoyed a surprise triumph of his own, the Frenchman is now hopeful that victory against Carling Cup winners Liverpool at Anfield on Saturday lunchtime can boost chances of an unlikely turnaround against Milan in next week's second leg.
"We know that in the Champions League we have a massive score against us," he said. "But, if we get a good result at Liverpool I think we have a chance.
"For us it's important to confirm the game we played against Tottenham at Liverpool and then we can focus completely on the Champions League and have a real go.
"What we did in Milan was just not what we do usually in the Champions League and I am sure we'll see a different Arsenal on Tuesday.
"In the Champions League at home we can score goals, we know that. For us now it's important for us to go with big belief into the Milan game."