Arsenal face mountainous Champions League task
By Alistair Magowan
BBC Sport
Last updated on .From the section Football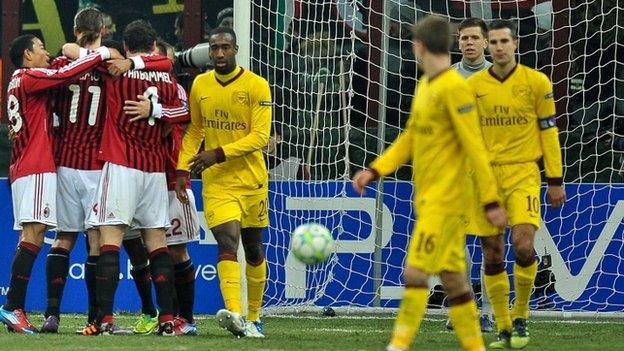 On the face of it, Arsenal face an insurmountable challenge against AC Milan on Tuesday, when they aim to overturn a 4-0 deficit in the second leg of the last 16 Champions League tie.
After the crushing defeat in San Siro, Gunners boss Arsene Wenger said: "There is maybe a 2% or 5% chance statistically, but realistically we are out of this competition."
Milan coach Massimiliano Allegri remains cautious. "I wish to underline that we have not qualified yet," he said.
So do Arsenal have any hope of completing what would be the biggest comeback in European Cup history?
"I've learned as a player and as an analyst not to ever rule anything out," said former Arsenal full-back and BBC Sport pundit Lee Dixon. "But I feel Milan have enough about them to score.
"If they do, that will obviously be the end of the tie, so the all-important clean sheet and a good start defensively is key to the game. Yes, Arsenal need goals but if they go gung-ho early on and Milan score, it is all over."
There are instances in recent and not so recent European history of teams succeeding when the odds have been stacked against them.
So, hot on the heels of the Gunners' improbable 5-2 victory over Tottenham at Emirates Stadium two weekends ago, BBC Sport compiles some reasons for Arsenal hope.
Europe's four-goal comebacks
Real Madrid are one of three teams to have come back from a four-goal margin in European competition, and the good news for Arsenal is they have all come at home after being beaten away in the first leg.
Partizan Belgrade 6-6 QPR (Partizan won on away goals)
Arsenal fans may recall that their club actually played an indirect part in Queens Park Rangers' away-goals defeat by Partizan Belgrade in the 1984-85 Uefa Cup.
Because of Uefa's ban on plastic pitches, Rangers had to play the first leg at Highbury and, despite going 2-1 down, they recovered to win 6-2, with John Gregory among the scorers. But they then travelled to Yugoslavia and lost 4-0 to crash out of the competition, boss Alan Mullery getting the sack soon after.
Real Madrid 5-5 Borussia Moenchengladbach (Real won on away goals)
The following season in the same competition, Real Madrid found themselves 5-1 down in the first leg of their third-round tie with Borussia Moenchengladbach.
But they won the second leg at the Bernabeu when two early Jorge Valdano goals put them on their way before a late brace by Carlos Santillana sealed an unlikely 4-0 victory to send the Real fans wild.
Leixos 7-6 Chaux de Fonds
In the 1960-61 Cup Winners' Cup first round, Portuguese side Leixos lost 6-2 to Swiss team Chaux de Fonds, yet registered a 5-0 win at home.
Milan's previous Champions League collapses
AC Milan have a bit of "previous" when it comes to losing leads in the Champions League, over two legs and in single games. And both occasions were memorable.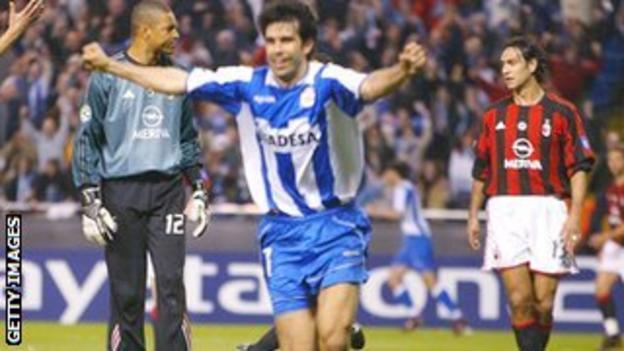 Deportivo La Coruna 5-4 AC Milan
They were the reigning champions when they lost to Deportivo La Coruna in the 2003-04 quarter-finals.
The Spanish side left the San Siro 4-1 down but returned to the Stadio Riazor to triumph 4-0 for an incredible win to complete the biggest two-leg comeback in the Champions League era.
Deportivo scored three times in the first half. former Newcastle United striker Albert Luque putting the hosts ahead on away goals at 4-4, but substitute Fran then made it 5-4 to knock out the holders.
AC Milan 3-3 Liverpool (Liverpool won 3-2 on penalties)
The Rossoneri were on the wrong end of one of the most amazing European finals ever when they lost to Liverpool on penalties after they established a 3-0 lead at half-time in the 2005 Champions League final.
A Steven Gerrard goal early in the second half inspired the comeback as the Reds scored three times in seven minutes to take the game to extra time. Then keeper Jerzy Dudek pulled off a remarkable double save to deny Andriy Shevchenko before stopping the Ukrainian's penalty to earn Liverpool their fifth European Cup.
The seemingly impossible dreams
Bayer Leverkusen 3-3 Espanyol (on aggregate: Leverkusen won 3-2 on penalties)
Bayer Leverkusen came close to matching Liverpool's triumph back in the days when the Uefa Cup final was played over two legs in 1988.
Espanyol took a 3-0 lead at home thanks to two Sebastian Losada goals and the scoreline was the same almost an hour into the second leg in Germany.
Incredibly, though, two goals in six minutes from the Brazilian Tita and German Falko Gotz got Leverkusen back into it and, having equalised nine minutes from time, they then won 3-2 on penalties.
Barcelona 5-6 Metz (on aggregate)
In the season when Everton won the Cup Winners' Cup, in 1984-85, Metz beat Barcelona, complete with playmaker Bernd Schuster, in a manner that they could only dream about now.
Having lost 4-2 at home in the first round first leg, and having also been on the end of some thrashings in their domestic campaign, the French team travelled to the Nou Camp in trepidation rather than hope.
They went a further goal behind with an hour left, but Tony Kurbos scored a hat-trick as Metz somehow managed to win 4-1 and knock out the Catalans.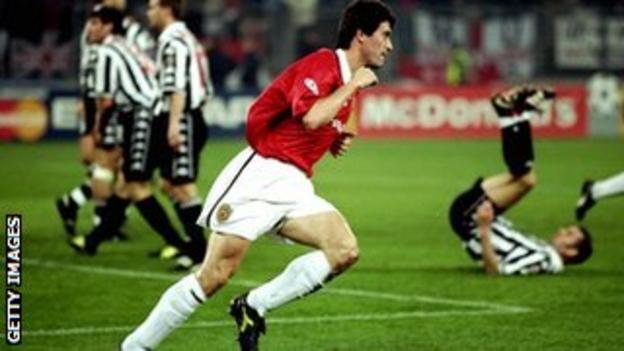 Juventus 3-4 Manchester United (on aggregate)
The Nou Camp was also the venue when Manchester United completed the most unlikely comeback of all in the 1999 Champions League final when Teddy Sheringham and Ole Gunnar Solskjaer both scored in injury time to beat Bayern Munich 2-1.
But their appearance in the final was only down to an extraordinary second leg of their semi against Juventus. Having drawn the first leg 1-1 at Old Trafford, Sir Alex Ferguson's team found themselves 3-1 down on aggregate after two early Filippo Inzaghi goals in Turin.
Step forward Roy Keane, who clawed a goal back with a header, before Dwight Yorke and Andy Cole proved they were one of the best strike partnerships in Europe that season by sending United through to the final in Barcelona.
Fulham 5-4 Juventus (on aggregate)
The Old Lady was also involved when Fulham staged an epic fightback to reach the Europa League quarter-finals in 2010.
Roy Hodgson's side reached the final, where they were beaten by Atletico Madrid, but Zoltan Gera played a huge part in getting them that far as they overturned a 3-1 first-leg deficit against Juve.
David Trezeguet looked to have sealed the tie when he scored early on in the second leg to leave the Cottagers needing to find four goals but, once Fabio Cannavaro was sent off, Gera scored twice and Bobby Zamora once before Clint Dempsey caused widespread astonishment down on the banks of the River Thames with a sublime chip.
So where does that all leave Arsenal?
"If they can get to half time in the lead and without conceding," concludes Lee Dixon, "then it's all up for grabs in the second half.
"Even if it's 1-0 at half time, nerves can play a part.
"Milan aren't expected to lose and they are expected to score but, if that doesn't happen and it gets to 1-0 and maybe 2-0 early in the second half, anything can happen.
"Arsenal weren't expected to win by two goals when we won the league title at Liverpool in 1989.
"But I think Milan, with the likes of Zlatan Ibrahimovic in the side, have enough about them to get a goal."