Rangers manager Ally McCoist hopes for 'minimal' cuts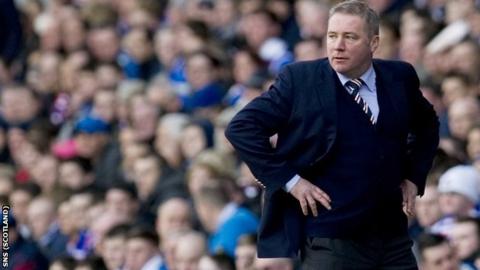 Ally McCoist hopes imminent cuts to his Rangers squad will be "minimal" but is braced for significant reductions.
The 2-1 home defeat by Hearts followed news from Rangers' administrators that an agreement on job cuts was likely to be announced on Monday.
Asked about the possibility of losing 11 players, McCoist said: "It's absolutely conceivable.
"It's a decision that's not being made by myself or anybody at the club, it's getting made by the administrators."
McCoist expects to meet with administrators Duff and Phelps over the weekend and insists there is "nothing definite yet" in terms of redundancies.
"I would never say it's out of our hands. We, as a staff and a workforce will do absolutely everything we can to if not make job losses zero, certainly minimal."
Of the loss to Hearts, McCoist said: "I can't believe we lost that game.
"Overall, our determination and willingness to run about and help each other and just run for the cause was absolutely first class. The players in that respect were terrific.
"I still have and have had the little bit of concern that I don't feel we are creating enough chances. That was probably evident throughout the 90 minutes.
"We could've and probably should've added to our lead. They did score a terrific goal from Hearts' point of view, it was a terrific strike and then of course they got the winner.
"I've nothing other than the total and utmost respect and high regard for every one of my playing staff because they have, in what can only be described as extremely trying circumstances, put it behind them and just basically run and run for each other and run for the club. And that's all you can ask.
"Any mistakes that our players made today were completely honest mistakes. We cannot ask for anymore from our players in terms of their level of effort and their attitude to play and work for this club and work for each other in extremely difficult circumstances."
The third successive home defeat leaves Rangers with only a three point lead over third-place Motherwell in the Scottish Premier League.
"I'm certainly on the ropes but I'm not down," McCoist added. "We'll bounce back, as will all the players and everybody involved with the club.
"The fans have been rock solid and stood by us and will continue to stand by the club. That will be required to get us through this and we will get through it."