Ballymena face elimination from Irish Cup over eligibility issue
Last updated on .From the section Football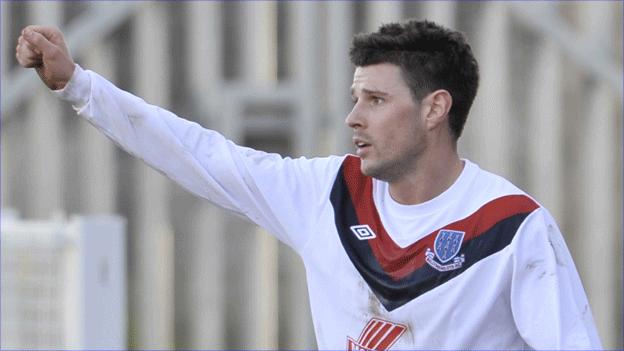 Ballymena United face elimination from the Irish Cup amid eligibility doubts over striker Alan Davidson.
Davidson scored the decisive goal in his new club's 2-1 quarter-final win over Newry City, but it is believed the player was not registered for the cup.
IFA competition rules say that a player must be registered by 31 January to allow him to play in the competition.
Davidson was making his debut for the club in the game. Newry are now likely to play Linfield in the semi-finals.
Davidson, a former Newry City player, signed for the Braidmen in the week leading up to the quarter-final, but it has emerged that he may not have been eligible to play in the game.
Davidson was out of contract and therefore allowed to sign for Ballymena outside the transfer window.
However the rules and regulations of the Irish Cup state that any player signed after the window closes is not allowed to play in the competition, even if they are eligible to play in league matches.
Rule 4 of the Irish Cup competition rules deals with player eligibility.
It says 'any players registered (including loans) after 31st January in any season will not be eligible for the competition in that season'.
It is understood the the Irish football Association Challenge Cup committee will write to United asking for their observations and are likely to meet early next week to examine the case.
If, as it appears, United have broken the registration rules then they will be thrown out of the Irish Cup and Newry City will earn a reprieve and face Linfield in the semi-finals on 31 March.
It would be a massive blow for new Ballymena boss Glenn Ferguson who was just one game away from taking his new club to their first Irish Cup final for 23 years.