England manager search has turned into a farce - Terry Butcher
Last updated on .From the section Football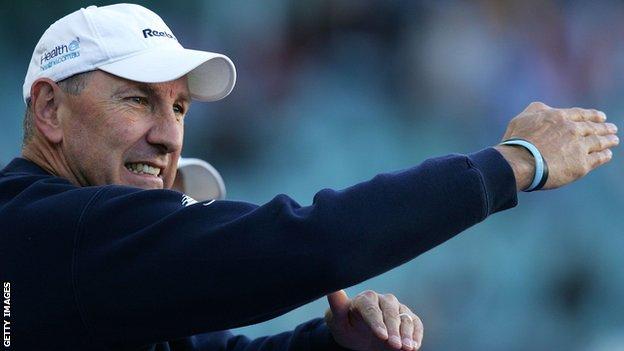 Former England captain Terry Butcher has called the Football Association's search for a new manager "a farce".
Caretaker boss Stuart Pearce has said he is available to manage England at this summer's major championship.
"I think it's a farce," Butcher told BBC Radio 5 live Sportsweek.
The Inverness manager added: "We've got two warm-up games in May before the European Championships.
"You're looking to get a settled squad and an idea of what that the starting side will be for the first match at the Euros and we're a million miles away from that.
"I think the FA must be bolder and if they want [Tottenham Hotspur manager] Harry Redknapp, really go for him. If that's not to be the case, then get someone else in, if that's what they want to do."
Redknapp has emerged as the popular choice for the post but Spurs' final Premier League game of the season is against Fulham on 13 May.
This date is less than a fortnight before England's first warm-up game against Norway on 26 May and less than a month before their opening game at the tournament against France on 11 June.
This has placed question marks about England's preparations for the competition in Poland and Ukraine.
Speaking to Sportsweek, FA general secretary, Alex Horne, said it would be preferable to hire Capello's replacement before Euro 2012 though no contact had yet been made with any candidate.
"The four of us [Horne, Brooking, FA chairman David Bernstein and Club England managing director Adrian Bevington] have not spoken to any club, manager, representative, executive or chairman at a club. We have made no approach what-so-ever," he said.
"At some point between now and the back end of the season, we will make our move."
Doubts about Redknapp leaving Spurs have led to rumours that Barcelona's Spanish head coach Pep Guardiola and Real Madrid's Portuguese manager Jose Mourinho could come into the reckoning.
Citing Germany's recent successful appointments of inexperienced head coaches Joachim Low and Jurgen Klinsmann, Butcher insisted the next England manager must be English.
He said: "It can't be anyone else [other than an Englishman]. We have to go that route now.
"Why go elsewhere? We've been elsewhere and we haven't got anything as a result of that and I think, let's go English.
"I hear the point about [English] managers not winning anything but you look at the Germans, they put people in charge who haven't won anything in club management yet their national team still does well.
"It doesn't matter about how many trophies you've won, it's what you can bring to the table."