Rangers boss Ally McCoist defiant on club future
Last updated on .From the section Football
Manager Ally McCoist has hit out at those who he thinks have been revelling in Rangers' turmoil after being forced into administration last month.
"At this moment in time we are wounded - there is no doubt about it," he said after Saturday's 2-1 loss to Hearts.
"There are probably one or two people out there enjoying it, maybe one or two people having a wee fly kick.
"I would suggest to them to give a right good kick just now because we will not be where we are for long."
Asked if he could elaborate on his comments, the Rangers boss said: "Not really. It will just go down avenues that I don't really want to go down, to be honest with you.
"Let's just say, while we are down there, we are having a look up and we are seeing what we are seeing."
McCoist is bracing himself for player redundancies which are expected to be announced early next week.
He said he would continue to lobby the administrators on behalf of his squad but admitted the situation was ultimately out of his hands.
On the club's future, McCoist added: "I am absolutely 100% confident that our football club will continue.
"I'm not sure yet what way, shape or form it will continue but our football club will continue.
"Every supporter to a man will continue following us in whatever way, shape or form that we are."
McCoist also revealed that he had spoken to owner Craig Whyte, in a brief telephone call the manager instigated, just over week ago.
He said: "Whether Craig and I speak is not really going to solve any issues. The issues will have to be solved by the administrators and then we will take it from there."
Speaking after a third consecutive home defeat, McCoist insisted he is not yet resigned to a major cull.
"There is certainly not an acceptance on my part," he said.
"I've had meetings with the administrators and the staff and the SPFA for the vast majority of the week.
"All the discussions and conversations have been very frank and honest and very open.
"I can't put a date on it because the administrators are in charge but I would be surprised if we weren't clearer in the direction we are heading at the beginning of the week."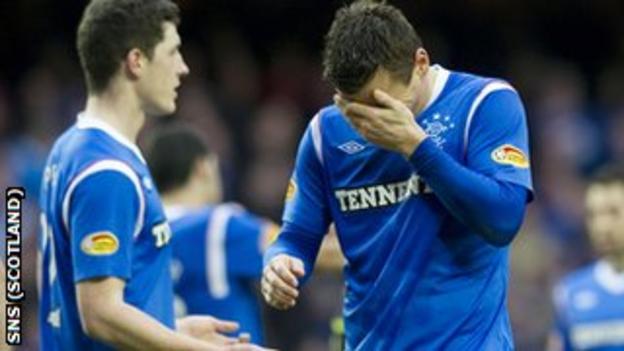 On the number of potential redundancies, McCoist added: "I'm very hopeful there can be ongoing discussions between everybody. We can always push to get a better deal for everybody.
"The ideal situation is no job losses at all, the next best situation is minimal job losses. I'm sure I'm speaking for all parties when I tell you we will continue to strive to do exactly that.
"I'm not sure I'm surprised or disappointed, I'm at the stage now where nothing surprises me or disappoints me.
"We just have to face the facts, face what's on the table and deal with it. That's what we will do."
Administrators Duff & Phelps say that the club must find savings of £1m per month to ensure the ongoing viability of the business.
And McCoist did express some surprise at that revelation, saying: "It's an awful lot of money to be haemorrhaging per month, let's put it that way.
"Especially when I've got reason to believe - not knowing the exact figures - that the debt has come down by some £16m or £17m in the last three years or so.
"But I'm not a money man so I don't know all the ins and outs of that."
The administrators have set a date of 16 March for best offers for parties interested in mounting a takeover bid.
On that topic, McCoist said: "I think anything that moves us forward would be regarded as being positive and that would be extremely positive if somebody came in with investment for the club and took over us and took the club forward."