Scotland youth plan will flourish - Craig Levein
Last updated on .From the section Football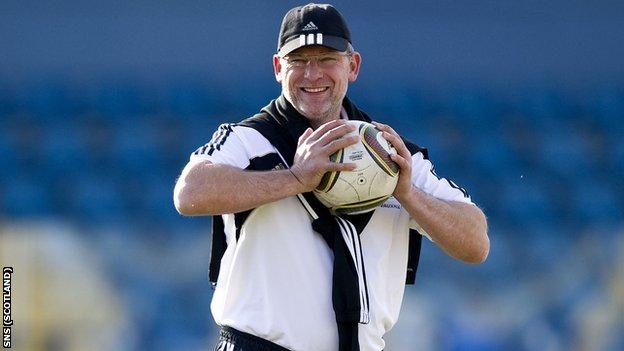 Manager Craig Levein is convinced Scotland are on the right track with plans for future generations of talent.
The Scottish FA's newly created network of seven performance schools will begin operating in the summer.
And the Scottish government is committed to establishing a national sports centre by 2016, with football taking centre stage.
"The idea is to develop a pattern of play, a style that will be the Scottish way," Levein told BBC Scotland.
"The most significant thing for me is the union between clubs and the SFA. The strategy has really been embraced.
"It's not about developing a team at each of these schools, it's about developing individual players so the programme is designed to help produce better technical players.
"A lot of the players will be associated with clubs at the same time and, of course, the club's job, on top of that, is to produce a team player.
"We will have a Scottish way. That's how Scottish national teams will play, from Under-15s up. The players will understand the system as they progress through the age groups. When they arrive at the first team they will completely understand it."
Scotland have not been at a major final since the 1998 World Cup and Scottish clubs have found the going tough in European competition in recent seasons.
A BBC Scotland documentary examined the problems facing football in 1992 and 20 years on the theme is revisited in A Match for Europe (Monday, BBC One Scotland, 2235 GMT).
"I see national team players who cannot use their left foot or they can't dribble," Mark Wotte, the SFA's first performance director, told the programme.
"Those are the basic skills that need to be taught at a young age.
"Twenty or 30 years ago, kids were playing in the streets but that's not happening any more, so we need to try and replace it and get seven, maybe 10 extra hours of training a week - all based on skills and technical ability."
In August, Braidhurst High School (Motherwell), Broughton High School (Edinburgh), Graeme High School (Falkirk), Grange Academy (Kilmarnock), Hazelhead Academy (Aberdeen), Holyrood Secondary School (Glasgow) and St John's High School (Dundee) will start working with the first intake of pupils on the scheme.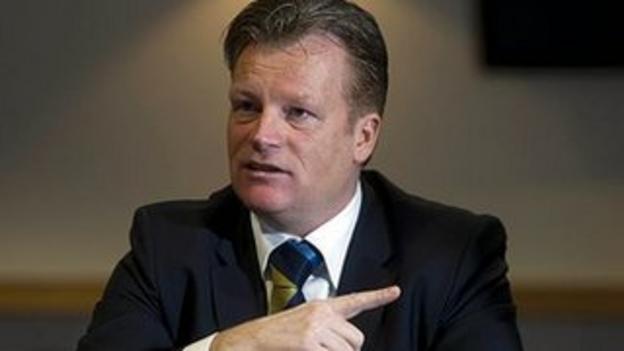 "I don't think that anybody could argue that the standard of players at clubs now is not as good as it was five years ago, never mind 20 years ago," said former Scotland and Rangers boss Walter Smith.
"Football at the top end needs a level of finance that's greater than we are able to achieve at the moment, so it may take a good few years of pain yet before we bottom out but, hopefully, the development of kids can bring more optimism.
"I was working with the Scottish youth team in 1982 and our director of football Andy Roxburgh compiled a report saying there were fewer kids coming into the game. I said there would be no danger.
"People like myself have maybe been a bit negligent in terms of being more forceful trying to push through measures to address what was going to be a major problem - and it is a major problem."
Celtic manager Neil Lennon recognises the drop in standards but also believes there is reason to be positive.
"When I first came to the club, we could compete with the [English] Premiership in terms of wages and bringing players in," he said. "That's gone now.
"It's always been important to Celtic to bring their own through but now we're up against it in terms of bringing players in so it's about creating our own.
"There is too much negativity in Scottish football. We have no divine right to be at football's top table, we have to earn it.
"I think the right people are progressing at the SFA and the future is looking brighter."
SFA chief executive Stewart Regan oversaw the appointment of Wotte, with the role recommended in the comprehensive Review of Scottish Football carried out by former First Minister Henry McLeish.
"We have got to work together," said Regan. "This is not something the SFA can achieve on our own.
"We need to have everybody working together from one plan. In the past we have had far too many plans, too many agendas, and what we've ended up with is organised chaos.
"This time we have clarity, focus and a willingness among all the parties to work together.
"For me, that's very exciting. It needs leadership and that's what I'm determined to bring to the game and we will drive that change forward.
"We will be in a much stronger place in 20 years' time."