Andre Villas-Boas lacked support from club - Lee Dixon
Last updated on .From the section Football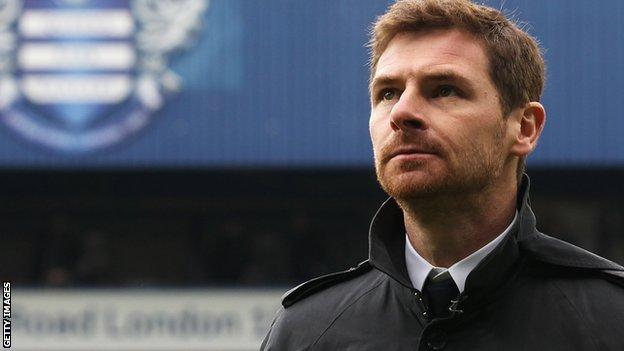 Chelsea's players must take a share of the blame for the sacking of manager Andre Villas-Boas, according to BBC football pundit Lee Dixon.
Dixon also says Villas-Boas should have been backed by owner Roman Abramovich.
"If the players don't like the way he manages, then fine, just shut your mouth and get on with playing," he said.
"Abramovich could have put a halt to everything by saying 'let him get on with it and I don't care where we finish in the next two years'."
Chelsea's decision to sack Villas-Boas less than nine months after his appointment came after a run of three league wins in their last 12 games.
The former Porto boss only took over as manager in June 2011 after Carlo Ancelotti was sacked in May.
Dixon continued: "Players come out and do articles with newspapers saying 'I'm not getting on with the manager'. Just keep your gob shut and carry on playing and ultimately the manager will get his come-uppance whether he's any good or not.
"If you are not playing, then find a reason why you aren't playing and get in the team. And if you don't get in the team, then leave."
The former Arsenal right-back also questioned the decision to sack Villas-Boas after he was employed by the club with a view to implementing a long-term strategy.
"The owner has taken a chance thinking Villas-Boas is the new Jose Mourinho by bringing in a young manager with limited experience.
"So if you're going to do that, is the remit for him to go and win the league, or is it, as I think it might have been, to evolve the team for the future? If that's the case, why have they sacked him?"
His views were reflected by fellow pundit Robbie Savage, who said he had sympathy for the former Porto boss, and believes current Everton manager David Moyes would make a suitable replacement.
"I just feel sorry for him. Villas-Boas should still be in charge," he told Radio 5 live.
"Rafa Benitez looks an interesting prospect [as a replacement] and he might get the best out of Fernando Torres.
"But I'd go for someone like Moyes. He has over-achieved at Everton and brought a bit of stability to the club."
Villas-Boas' tenure was marked by a reported falling out with senior stars such as Frank Lampard.
Former England manager Graham Taylor believed the dressing room had undermined the Portuguese's attempts to lead the club.
"As a football manager, you have to be held responsible for results, as a player, you have to be held responsible for performances," said Taylor.
"Looking at Chelsea, you have to say the players have won off the pitch. I don't think the players have had the commitment you would expect from any professional sportsmen, and that's difficult for the manager."
While Villas-Boas had been on Chelsea's coaching staff during Jose Mourinho's tenure, he came on the club's radar as a successor to Ancelotti after he won the Portuguese League and Cup double, plus the Europa League, last season with Porto.
The 1-0 league defeat by West Bromwich Albion on Saturday proved to be Villas-Boas' final game in charge of the west London outfit. For David Johnstone of the cfcuk Chelsea fanzine, the manager had lost the backing of the fans long before that.
"It was inevitable he was sacked. Villas-Boas not only lost the players, but he lost the supporters," said Johnstone.
"At West Brom, a good proportion of Chelsea supporters were joining in the home supporters in chanting 'you're getting sacked in the morning' which everyone will agree was not a very good sign."
Leading managers such as Barcelona's Pep Guardiola and Real Madrid's former Chelsea boss Jose Mourinho have been linked to filling the vacancy at Stamford Bridge. For ex-Chelsea player and manager John Hollins, a good end to the season for caretaker boss Di Matteo could see the Italian given the role full-time.
"He could be the man if he wins the next couple of matches and then a few more," the 65-year-old said.
"What's to say he's not going to get the job?
"There can't be that many lively, bright managers who will want to take the job. My advice is to get one in for a year."
Former Chelsea player and assistant first team coach Ray Wilkins believed despite this success, the Premier League's increased competitiveness had come as a shock to Villas-Boas.
"It's been extremely difficult for him, he's been hanging in there," he told Sky Sports News.
"Our football is extremely different to Portugal. No disrespect to Porto, but it can be a breeze winning titles with them. It's not as hard."
Villas-Boas' exit means Abramovich is now searching for his eighth manager in nine years at the helm.
One of these former bosses, Avram Grant, led Chelsea to the Champions League final in 2008 when he replaced Jose Mourinho on a temporary basis.
Speaking to BBC Radio 5 live, the current Partizan Belgrade manager believed Villas-Boas had fallen victim to the Russian billionaire's desire.
He said: "His main ambition was to be the champion of Europe. It's not good enough for a team like Chelsea that they [were] only one time in the Champions League [final].
"He gave you all of the tools you needed to succeed and said do your job. He loves football very, very much and has spent a lot of money to achieve the best.
Newcastle boss Alan Pardew said that he felt sorry for Villas-Boas, who had not had his task made easier by the attitude of some of his senior players.
"I have a lot of sympathy for him because that is a really, really talented coach we have lost in this country," said the Magpies boss.
"I know he is from Portugal, but he has had to take on a club there with a lot of senior pros and in the background, probably had a very, very difficult job."
Manchester United manager Sir Alex Ferguson, speaking after his side's 3-1 win over Tottenham on Sunday, said Villas-Boas would bounce back from his Chelsea experience.
He said: "The lad's been under pressure but what you need in this job is time. His record at Porto shows he has got potential. But Chelsea was a big ask."
Spurs boss Harry Redknapp said: "It's a shame for the lad losing his job, you don't want to see anyone do that. He'll bounce back, it won't be the end of his career. He's got many, many years in him yet."