Scots offered insight into German and Dutch football models
Last updated on .From the section Football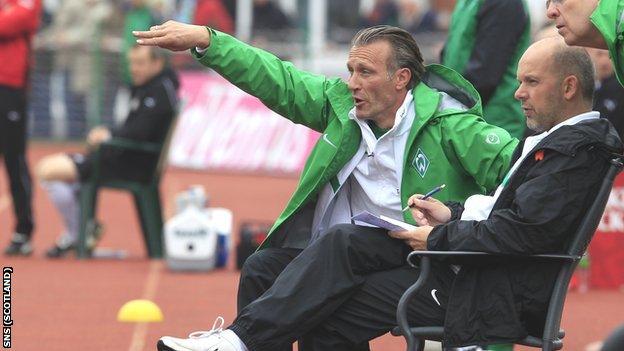 Germany's poor form at Euro 2000 was the catalyst for changing the country's football set-up - and a prominent coach suggests Scotland should do likewise.
Thomas Wolter, youth coach at Werder Bremen, told BBC Scotland that clubs and the German FA agreed to reforms.
"Bundesliga clubs got around the table with the DFB to find some points to make youth football better," he said.
"Everyone in Scotland is a football fan. It's a long way [to go] but you must work together."
Wolter, who was in the Werder Bremen side that knocked Celtic out of 1988 Uefa Cup, added: "One of the points was to build youth academies to work with young players to make them into professional players.
"That was 10 or 11 years ago. It was a hard time.
"Now you can see very young players, 18 and 19, playing in the Bundesliga and in the international team.
"The reason why in Germany it is [now] better is because everybody wants to work together."
In a BBC Scotland documentary, A Match for Europe, to be broadcast on Monday 5 March, it is shown that there are 40 teams linked to Werder Bremen and that 100 players who have progressed through the club's academy are now playing in the Bundesliga and Bundesliga 2.
Presenter Jim Traynor wonders if this is the model Scottish clubs should adopt, rather than paying transfer fees for players.
At Euro 2000, holders Germany were beaten by England and Portugal and finished bottom of Group A with one point earned in a draw with Romania.
The clubs and the DFB decided to divert money into youth development instead of wages.
By doing so, the league became less attractive to foreign players and so more young players moved into the first teams of Germany's clubs.
The programme also travels to the Netherlands to assess the youth set-ups at Rotterdam's Feyenoord and Ajax, in Amsterdam.
Feyenoord was in financial trouble, caused in part by a tax debt, and chose to focus on developing its own players to live within its means.
The club's assistant coach, Giovanni van Bronckhorst, said: "In the Feyenoord first team I think 80% of our players are from our own system.
"I think that is very important for the club.
"We are not able to buy players; you have to create your own.
"The younger players get a chance quicker to be part of the first-team squad.
"If you have a good youth set-up, you have your own future in your own hands and I think that is important.
"The Dutch philosophy is to be able to be part of a club."
Liverpool's Dirk Kuyt, Arsenal's Robin van Persie and van Bronckhorst all came through the Feyenoord coaching system, which was highly regarded even before the club's financial troubles heightened its importance.
Feyenoord Academy director Stanley Brard told BBC Scotland: "The way we look at it, at a young age, the winning is not important.
"We look at how a players acts on the pitch. Is he doing things right in passing, controlling and heading?
"If this is OK, then he has the best chance to develop into a professional."
Another who believes in that ethos is the former Dutch international defender, Frank de Boer, now in charge of Ajax.
He spent a short period at Rangers, joining his brother Ronald at Ibrox in 2004.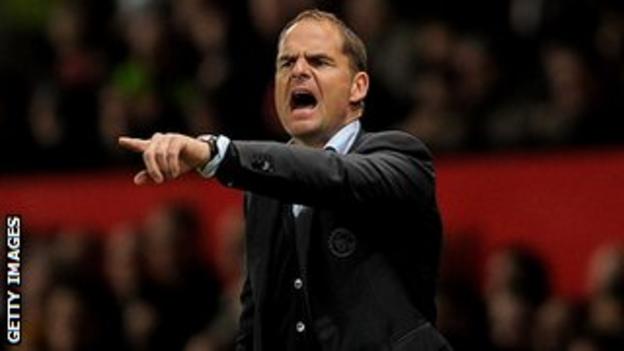 "We have spent a lot of money on the youth academy," said de Boer.
"We know, if we want to survive, we have to generate new players.
"For us, the most important thing is technique.
"From what I saw in my time in Scotland, they don't care much about the technical things; it's more about being aggressive and rolling your sleeves up.
"But at the highest level, technical skills are so important.
"We try to teach that by eight years old and in the end we get results."
His views chime with those of countryman Mark Wotte, the Scottish Football Association's first performance director.
"I have not seen any team in the world winning any tournament playing 4-4-2, with the long ball, thinking you can fight your way to success," said Wotte.
"The benchmark is Spain, but with Holland, Germany and Brazil, you see the passing game with three midfielders, a lot of movements, quick, agile players."
And it is not just on the field where Scotland and the Netherlands differ, according to Wotte.
"The difference in Scotland is the unbelievably complicated structure. We have 20 affiliated associations, a lot of leagues," he said.
"There is no one body, one league system; there is no pyramid.
"Coming from Holland where there is only one body dealing with all the leagues, it makes life not easy to change things [here]."