Andre Villas-Boas sacking: Nevin wants Everton boss David Moyes

By Pat Nevin
Football analyst
Last updated on .From the section Football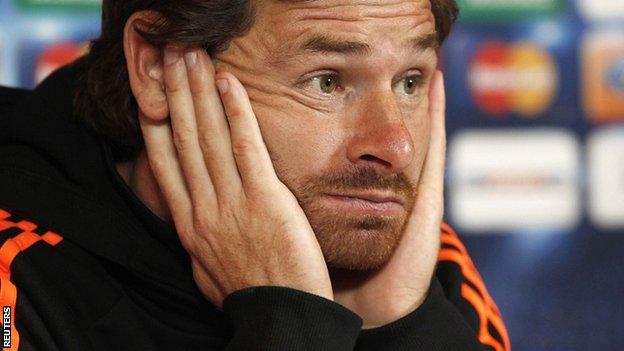 The sacking of Andre Villas-Boas is not a massive shock but I'm very saddened for him.
This is all very short-term and eventually someone is going to have to do a long-term job on Chelsea.
From a Chelsea point of view, it would be lovely if Jose Mourinho would come back, and we know he was in England last week. It's such a long shot, although nothing surprises me in football any more.
If it was me making the decision, I would grab Everton's David Moyes immediately and tell him to start a new dynasty.
Whoever ends up becoming the new manager, he'd better start doing it quickly.
The players have also got a big job on their hands.
It may well be that Roberto Di Matteo says "it's up to you guys. If you work the right way, put the effort in that you should be putting in and play at your very best you can save this season" and maybe that will be enough.
But their position is very important from here on in, particularly in the next two or three weeks, with the Birmingham City FA Cup replay coming up and the Napoli game [in the Champions League] as well.
The analogy I would give is Arsene Wenger after his first flush of success. He has tried to change the team and look at how long it has taken him to get a club that is a) winning things and b) even challenging for winning things.
If you're going to have to do a job as big as the one Villas-Boas was asked to do, which is to turn around a major club that has had its most successful period in its entire history, you're also asked to change the style of play and make it more exciting.
You have to get rid of the players that have been the bedrock and, while you're doing that, could you make sure you're really successful as well! It's a big, big ask.
We thought it was going to be Andre. It's not going to be him. Is it going to be the next guy?
Chelsea Football Club have actually appointed some very good managers over the last few years. They don't necessarily last very long, but they're very good managers, so there's a fairly good chance that they'll get a good guy in.
But I wouldn't want to try to read Roman Abramovich's mind. I don't think anybody can.