Andre Villas-Boas sacking embarrassing, says Richard Bevan
Last updated on .From the section Football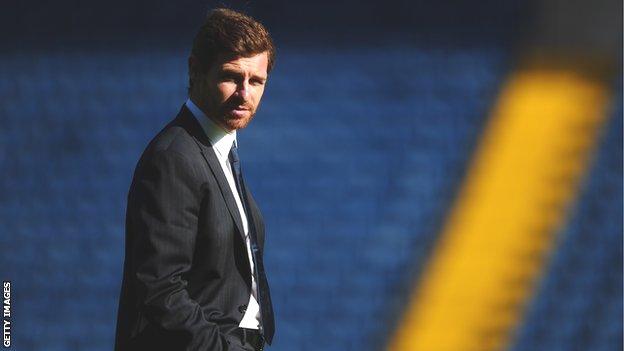 Chelsea's sacking of boss Andre Villas-Boas is "a serious embarrassment", the League Managers' Association chief executive Richard Bevan has said.
"What is for sure is that, despite unlimited wealth, they haven't worked out how to build a successful football club," Bevan told BBC radio 5 live.
"Looking for his [owner Roman Abramovich's] eighth manager in nine years is a serious embarrassment."
Saturday's 1-0 defeat by West Bromwich Albion at the Hawthorns was the final straw for the Russian billionaire.
The game left Chelsea three points outside the Champions League qualifying spots in fifth and with a record of three wins in their last 12 Premier League games.
Abramovich has earned a ruthless reputation when it comes to the removal of managers and Bevan believes this attitude led to Villas-Boas's reported power struggle with senior players such as Frank Lampard and undermined him from the outset.
"If a club has frequent managerial changes, you will have that sort of situation," he commented.
"When you take over a football club, you must ensure there are clear agreed objectives and goals right from the start. You must make sure that you manage expectations from the players, everyone at the club, the fans and even the media.
"Players need to know the manager's strategy and job is not in question and there is a clear remit. You get success if you have time and stability comes from that, otherwise it's very difficult for a manager like Andre to impose his philosophy and build a team."
Bevan also confirmed he had spoken to Villas-Boas since his departure and said the Portuguese had wished interim manager Roberto Di Matteo well for the remainder of the campaign.
"He was very disappointed, frustrated, saddened but his thoughts were with the club, the fans, and indeed, Roberto Di Matteo," the former Professional Cricketers' Association chief executive stated.
"He wished him well for the rest of the season."
Despite Villas-Boas having the lowest win percentage of any Chelsea manager since Glenn Hoddle, Bevan insisted he should have been given more time to turn things around.
He said: "That might be the case, but after only eight months you can't build that sort of success.
"The club is still competing in the latter stages of the Champions League and the FA Cup and fighting for a top-four position.
"If you want success, you must look at the longer term."