Ballymena United claim IFA gave clearance for Davidson
Last updated on .From the section Football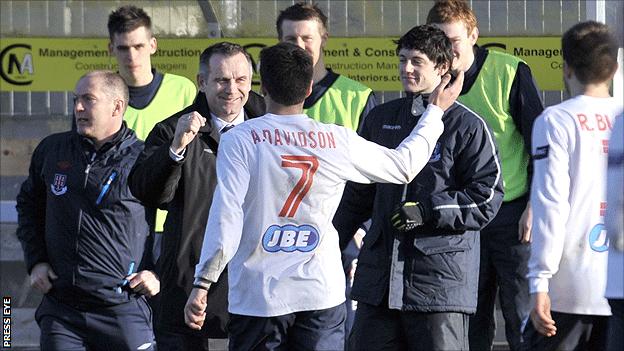 Ballymena United boss Glenn Ferguson has said the Irish FA gave clearance for matchwinner Alan Davidson to play in Saturday's Irish Cup quarter-final.
However, Ferguson admits semi-finalists United are likely to be thrown out of the cup after it emerged Davidson was not eligible to face Newry.
Davidson was not signed before the cup's 31 January deadline.
"The IFA told me he was available for selection. We are gutted to be caught up in this," said Ferguson.
"We checked on Tuesday and were told Alan was 100% registered and available to play from that day.
"Under no circumstances did they tell me he was not available for the Irish Cup game.
"Maybe in hindsight, if we had looked at the rules better.
"But Alan was a non-contracted player and we signed him way before the final, if we got that far, which is why the rule was brought in.
"Even if someone at the IFA has made an error, they will say we should have known the rules, which is understandable.
"I am disappointed to be told someone is 100% available for selection and then find out, directly after a game, that he wasn't.
"The players have worked so hard, this is going to knock them back."
The Irish FA has yet to make a ruling on the case. If Ballymena are eliminated, Newry City, beaten 2-1 in last Saturday's tie, could take their place for the 31 March semi-final against holders Linfield.