Ipswich Town boss content with Bullard and Chopra sanctions
Last updated on .From the section Football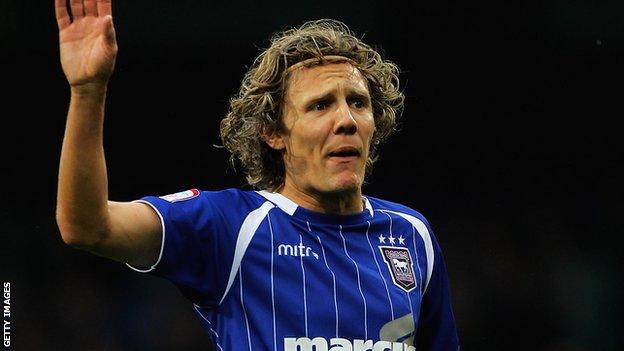 Ipswich Town boss Paul Jewell has defended his decision to punish Jimmy Bullard and Michael Chopra differently for the same offence.
Chopra, who is a recovering gambling addict, was fined two weeks' wages.
"You'd love to treat everyone the same but life isn't like that," Jewell told BBC Radio Suffolk.
"Suspending Jimmy from the football club for two weeks will really hurt him.
"He loves playing and training and we've taken that privilege away from him for two weeks. Hopefully it will make him realise his mistake."
But Jewell said issuing the same sanction to 28-year-old Chopra would have hindered the striker's battle with his addiction.
And it would also deprive Town of a player that took his goal-scoring run to six in as many games by netting in Saturday's 3-0 win over Bristol City.
"I think if I had suspended Michael for two weeks it would have been counterproductive - both to him and to us," said the former Wigan boss.
"They've made a mistake. I've dealt with it. Whether I've dealt with it the right way, I don't know. I've dealt with it how I see fit.
"The most important thing is the benefit to the team. I think Michael being in the team benefits us at the moment. But he's got to be culpable as well."
Midfielder Bullard, 33, joined Ipswich in August following a contract dispute at Hull City and has gone on to make 12 league starts. He enjoyed a successful loan spell at Portman Road in the previous campaign.
Chopra, a summer signing from Cardiff, has been attending the Sporting Chance Clinic since October to receive treatment for his addiction, but has still managed to score 13 times in 33 games.
"They know they made a mistake and they're very remorseful," added Jewell.
"They've let the team down and of course they've let me down because I'm the manager.
"But none of us are perfect or angels. If it happens again there'll be serious, serious bother. But I'm not expecting it to."