Paul Peschisolido to remain as Burton Albion manager
Last updated on .From the section Football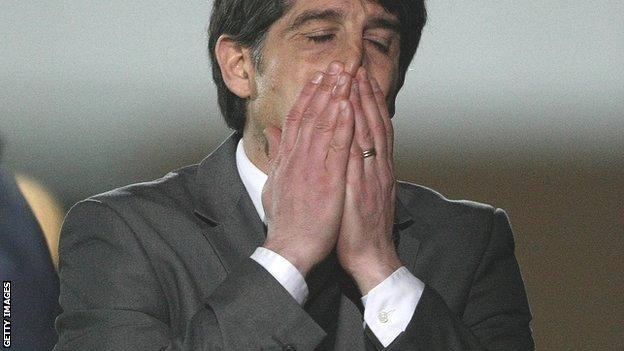 Paul Peschisolido is to stay on as manager of Burton Albion following a crisis meeting with chairman Ben Robinson, reports BBC Radio Derby.
Peschisolido said: "I'm trying to bring in some loan signings as soon as possible. It's business as usual."
The Brewers lost 2-0 to Southend on Saturday and are now 15th in the table.
A dejected Peschisolido said after the home loss that he had to take the blame for the bad run.
"The players are giving all they can. I pick them, bring them to the club and if they are not up to it, it's me that needs to be criticised," he said.
"We are lacking quality in the final third but I am not going to criticise the commitment because they are giving me everything they have got."
Burton's last league win came against Northampton Town on Boxing Day and they have since taken just four points from a possible 33.
Peschisolido added: "To think we went into Christmas in fantastic form, sitting fourth, and now we have gone 11 games without a win. I can't believe it's the same group of players.
"We are fragile at the minute. We had chances to score [against Southend] and when you don't and you are in a fragile state, you are always susceptible to concede.
"We looked all right in the first half but when you concede you can see the confidence drop. The only thing that will help us is a win and at the minute we cannot buy one.
"No-one will feel sorry for themselves so we have to get on with it. We have to be big boys, puff out the chest, lift up the head and graft our way out of this.
"This run of games has been horrendous and we just want to get that win."