Richard O'Kelly replaces Jamie Pitman at Hereford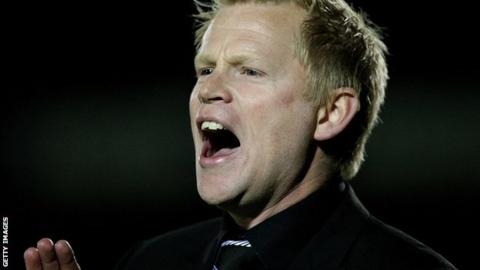 Hereford United have installed Richard O'Kelly as their new manager until the end of the season with ex-boss Jamie Pitman dropping to a coaching position.
Pitman was sacked as manager after the 2-1 win against AFC Wimbledon on Saturday, their first victory in eight.
O'Kelly, who had been coaching at Walsall, was previously assistant manager at Hereford from 2002 to 2004.
"This is a very special football club. I'm excited to be given this chance and it's great to be back," said O'Kelly.
He added: "It's my first job as a manager but what better team to start with?
"I'm determined to make sure the club starts to achieve its potential.
"We've got 12 games to show and prove to people just what we can do."
Pitman, who enjoyed two playing spells with Hereford, had been in charge since October 2010 when he was promoted from club physio following the sacking of Simon Davey with the club bottom of League Two.
Pitman made a bright start with only one defeat in his first eight games and steered the Bulls to safety, finishing 20th.
That achievement saw Pitman sign a two-year contract last summer but with Hereford currently 21st and facing another relegation battle, the board decided to act.
Hereford chairman David Keyte said: "Although everybody has been working very hard, we felt we needed someone fresh for the remaining 12 matches.
"Richard was the man we decided could do a job for Hereford United. We're thrilled to have him and we hope he'll be guiding us to the future."
O'Kelly, 55, played for Walsall, Port Vale and Grimsby and has also coached at West Bromwich Albion, Aston Villa, Bournemouth and Doncaster.