Roberto di Matteo thinks of Andre Villas-Boas after Chelsea win
Last updated on .From the section Football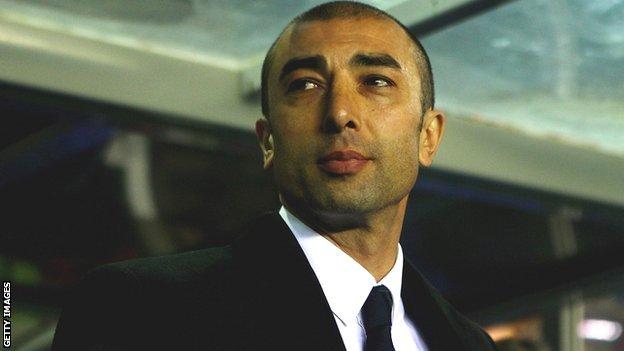 Chelsea caretaker manager Roberto di Matteo said his thoughts were with Andre Villas-Boas after the Blues won 2-0 at Birmingham in an FA Cup replay.
Leading Chelsea for the first time since Villas-Boas was sacked, Di Matteo left out Frank Lampard, Didier Drogba and Michael Essien as Chelsea secured a sixth round meeting with Leicester.
And Di Matteo said: "My thoughts go to Andre, to our manager.
"We had a difficult task given the last few days but the attitude was right."
Di Matteo added the priority had been to progress to the next round and show the supporters "that we care".
But after achieving that aim without some of the club's biggest names he denied that his team selection had been a brave one.
"Was it a brave selection choice? It was nothing to do with bravery," said Di Matteo, who is in charge on an interim basis until the end of the season.
"They were all on board. They know the targets we have to achieve.
"They are big players for this club. We have a squad and we have to utilise the squad. We have to try to get the best out of these players.
"It was a question of freshening up the team a bit, giving it some energy and fresh legs for a game like this. We had to fight today.
"It has been a difficult time. It's been difficult for the whole club but you have to deal with it.
"Tonight we had to focus on this game and move on as a club, put it to one side and move forward.
"We faced a difficult task given the events of the last couple of days, and it was important for us to get through to the next round. We had to do a job."
Di Matteo also refused to be drawn on his chances of replacing the sacked Villas-Boas as permanent manager.
"Would I take it? I'm very tired tonight. I have to think about the Stoke game [on Saturday]," he said.
"Think whatever you want to think. I'm not thinking about anything else."
Meanwhile, Di Matteo confirmed captain John Terry, who made a surprise return to the bench two weeks after undergoing knee surgery, is close to being fit enough to return to the starting line-up.