Initial Fifa match-fixing probe clears South Africa
Last updated on .From the section Football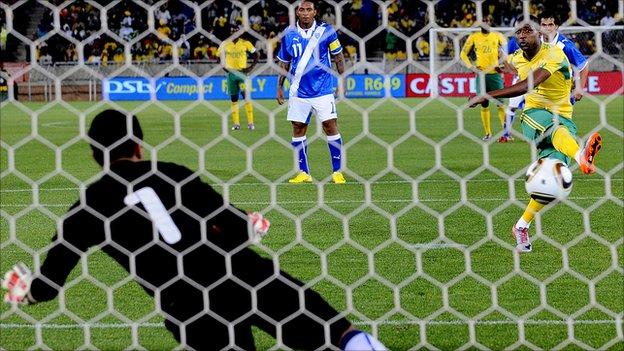 A Fifa investigator says that the first stage of his probe into international match-fixing has turned up no evidence implicating South Africans.
A handful of Bafana Bafana games in the run-up to the 2010 World Cup are under investigation, including friendlies against Colombia and Guatemala.
But security head Chris Eaton revealed that convicted match-fixer Wilson Raj Perumal convinced South Africa's FA to appoint referees through his company.
Perumal is currently in a Finnish jail.
The Singaporean was jailed for two years in July 2011 for his part in a match-fixing scandal in Finland's top division.
Perumal is also believed to have played a role in Zimbabwe's tour of Asia where a number of international matches were fixed, although the current probe centres on games involving South Africa shortly before the 2010 World Cup.
The outcome of friendlies against Thailand, Colombia, Bulgaria and Guatemala in the weeks leading up to the tournament are all in question after Fifa found the match officials had been provided by a Singapore-based company fronting for match fixers.
Eaton's comments follow a four-day trip by Fifa's outgoing security director to Johannesburg to interview those involved and investigate any potential duplicity.
"Firstly, it is clear that the convicted criminal and football match-fixer, Wilson Raj Perumal, was involved in convincing Safa to agree to a company then managed by him to select, fund and appoint referees to certain international matches played in 2010 which are now under investigation," Eaton was quoted as saying in a Safa statement.
"It should also be said that to date there is no information, suggestion or evidence that any player or team, including the national South Africa team, was in any way complicit with any attempt to manipulate a match."
In May 2010, the month prior to the World Cup, the tournament hosts beat Colombia 2-1 and Guatemala 5-0 in two friendlies.
The games were notable for featuring the awarding of three penalties apiece in both games.
As Eaton enters the second stage of his probe, which is being handled with the full cooperation of Safa, the Australian has stressed the need to interview more referees and review further documents.
"Fifa has concluded the first stage of its Security Stage 1 process which has involved interviewing a number of people from Safa, or formerly from the Association, who could assist the investigation," said the Australian.
"Interviews with the officiating referees and some forensic documentary material remain outstanding, but with the support of Safa will be undertaken as soon as possible."