What next for Rangers' players?
By Martin Conaghan
BBC Scotland
Last updated on .From the section Football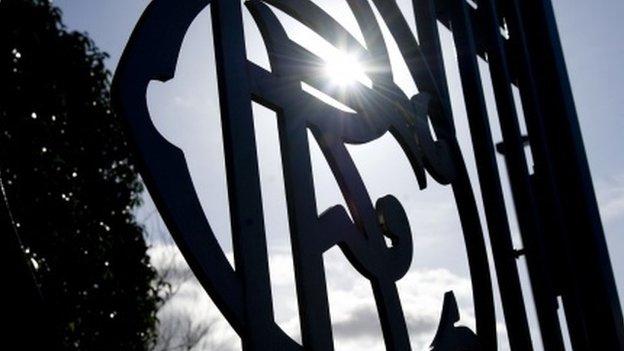 BBC Sport examines the options open to players who have been made redundant from Rangers.
Q: When a player has been released from their contract, can they immediately move to another club?
A: It's not as straightforward as finding another club and simply signing for them.
Fifa is the sole arbitrator on the matter and has made dispensation in the past for players who have been made redundant through no fault of their own.
Players who have been made redundant are usually treated as having been unemployed during the previous transfer window.
Q: What if the player cancels their contract with the club?
A: If a player cancels his own contract with a club, then he would not be able to sign for another club until the transfer window opens in the summer.
Q: Can a player being released from Rangers sign for another Scottish or English club?
A: The transfer windows have now closed in Scotland and England. So, even if a player is out of contract or has been released, they cannot be signed to another club unless it is approved by the association they are moving to - and, if Fifa approves the move.
The reason for this is to protect the integrity of each individual competition; a club signing a player late in the season could raise complaints from other clubs who would view it as putting them at a disadvantage.
Q: What about an emergency loan deal?
A: The Scottish Football League and the Scottish Premier League currently have emergency loan deal windows, which end on 31 March. However, the SPL only allows 'outbound' loan deals, not incoming deals - which would rule out a move to another SPL club.
In England, the emergency loan window ends on the last Thursday in March (29 March).
These emergency loan deal windows are usually only used when a club has difficulty filling a squad with enough players to fufil fixtures, or if all of their goalkeepers are injured.
Q: Can the player move to a club in another country?
A: There is no problem with a player moving to an association where the transfer window is still open as long as Fifa - and the association they are moving to - approve the transfer and if the player is a free agent who has been released from their contract.
The transfer windows are still open in:
Norway/Sweden: 1 January-31 March.
Japan: 8 January-2 April.
USA/Canada: 21 January-15 April.
Finland: 1 March-30 April.
Q: Who has the final say?
A: Ultimately Fifa decides if a player should be given dispensation. Players and their agents are free to discuss their options with any club they choose, but in the case of Rangers players, their registrations are held with the Scottish Football Association.
However, applications for a transfer or move are made on behalf of the player by the SFA to Fifa and it would be expected that in the case of Rangers players who have been made redundant by the administrators, Fifa would give dispensation for a move.