Guernsey FC blame FA for playing suspended player
Last updated on .From the section Football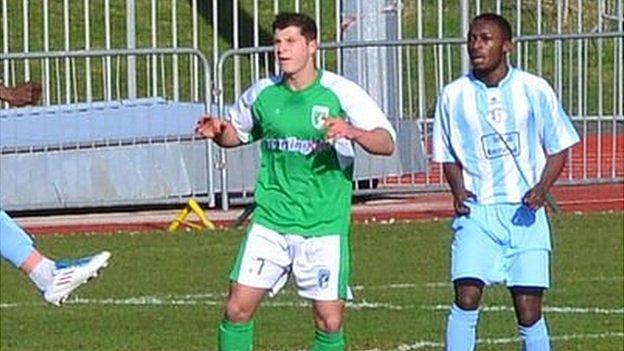 Guernsey FC have blamed the island FA and their disciplinary procedures after they were hit with a three point deduction and £100 fine for playing a suspended player.
Kieran Mahon played in Saturday's 2-0 win over CB Hounslow but was banned for two games after being sent off for North in a Priaulx League match.
Guernsey FC say they did not get paperwork from the GFA in time.
But the Guernsey FA say the club and player should have known about the ban.
"Guernsey FC is extremely disappointed that given that the Guernsey FA had not processed any disciplinary cases for three weeks, it did not contact either Northerners AC or Guernsey FC to advise them of the suspension.
"Even though the county association is not obliged to do so, the club feels this would have been the level of service we should expect from our County FA in these circumstances."
But Guernsey FA chairman Chris Schofield defended his organisation's disciplinary procedures.
"The onus is on the clubs, it's as simple as that. If the club plays an ineligible player it's down to them," he told BBC South West.
"It's unfortunate that the documentation wasn't received on time but everybody, including the player, knew that they would be suspended after 21 days, that's been the rule since the start of the season."
A new rule was brought in at the beginning of the season which means that players' suspensions would begin three weeks after their offence took place.
Mahon was sent off for two bookings on 10 February, and as it was his second such dismissal of the season, he was banned for the next two matches that North played.
During that period he was also banned from any game that Guernsey FC played.
But when pressed on why documentation around suspensions was not sent to either North or Guernsey FC, Schofield said he would examine the reasons behind the lack of communication.
"We'll look at that, I don't know the reason for the delay in sending it out," he said.
"I've not had a chance to make any further enquiries. It stands to reason that getting stuff out is of benefit, I don't doubt that, but at the end of the day as far as we're concerned enough people knew that the player would be suspended after 21 days."
But Guernsey FC chairman Steve Dewsnip was highly critical of the Guernsey FA and its lack of communication.
"It is extremely disappointing that football on this island has shot itself in the foot in this way.
"Once again this situation could have been avoided by interested parties within Guernsey football choosing to communicate and work together which, alas, has once again not happened.
"Given the big following that the Green Lions have created in the UK and further afield, this embarrassment for the club and the island regrettably is spread far beyond our shores."