Martin O'Neill rejects Alan Pardew derby criticism
Last updated on .From the section Football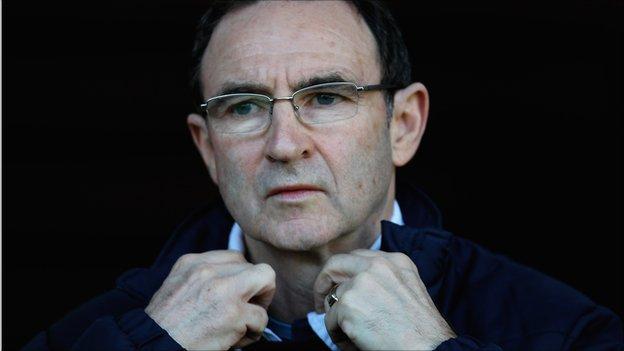 Sunderland manager Martin O'Neill has rejected allegations by Newcastle boss Alan Pardew that his side played "ugly" in last Sunday's Tyne-Wear derby.
"The half-time stats are a total contradiction to what their manager said," O'Neill told BBC Newcastle.
"They've twice the number of bookings we have, and twice as many fouls."
He added: "It was an extraordinary analysis of the game, and that's what I've set out to defend, as much as anything else."
Pardew's comments followed an ill-tempered 1-1 draw on Tyneside in which nine yellow cards and two reds were issued by referee Mike Dean.
Shola Ameobi's late equaliser rescued a point for the home side and denied Sunderland a first win on their rivals' patch for over a decade after Nicklas Bendtner's first-half spot-kick had put them ahead.
"You think you've watched the game, given a reasonable analysis, certainly your own viewpoint, and then you hear the opposition manager saying that Sunderland had a game plan to upset them, to unnerve them, to basically - and he used the word ugly - attempt to kick them off the pitch.
"Lee Cattermole was booked after a minute and a half and quite rightly so too. The second foul was committed by ourselves when [Jonas] Gutierrez goes by Seb Larsson and Phil Bardsley after three and a half minutes.
"The irony is that we didn't commit another foul then for about 17 minutes, during which time they conceded seven."
"This is an opportunity for me to set the record straight as it were.
"It's not a case of taking moral high ground, but putting across what I felt during the course of the game almost entirely the opposite of what their manager was saying."
O'Neill was critical of both Stephane Sessegnon and Cattermole in his own post-match thoughts, with the red-carded duo receiving three and four match bans respectively.
However, the Black Cats boss was also unhappy with Magpies midfielder Cheick Tiote for his role in the former's dismissal.
"Sessegnon deserved to be sent off the pitch, I said that at the time, because he raised his arm in retaliation," said O'Neill.
"He's flung an arm back in the manner that, if the referee sees, he has no option but to send him off.
"Tiote, this 'hard-man' of the Premier League, has clutched part of his anatomy that wasn't even touched, he was hit between the chest and neck, enough to hit a fly over.
"He's gone down two and a half seconds after the incident, and rolled around 14 times."
Earlier this season, Sunderland midfielder David Meyler was criticised by Tony Pulis for his reaction to a challenge from Stoke centre-half Robert Huth that led to the latter's dismissal.
However, O'Neill was convinced his player Meyler reacted appropriately to the tackle, whereas Ivory Coast international Tiote did not on Sunday.
"I had a disagreement with Tony Pulis in the sense that he picked out an incident where Huth was sent off because he had fouled Meyler, and his after-match comment was that he thought too much of this was creeping into the game, where players are getting other players sent off.
"I actually agreed with him, but I felt he had chosen the wrong subject this time in David Meyler.
"This would be the type of thing Tony Pulis would be referring to, and that is not at all exonerating Sessegnon. He will be fined accordingly as will Cattermole," O'Neill added.