Rafa Benitez admits he would be interested in Chelsea job
Last updated on .From the section Football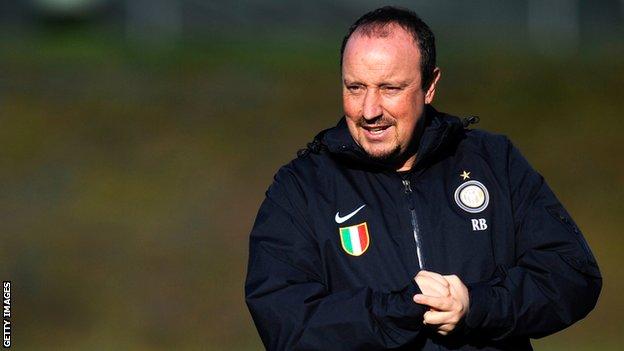 Former Liverpool boss Rafa Benitez admits he is interested in becoming Chelsea's next permanent manager.
"A manager that wants to wins trophies has to keep an eye on the top sides. Chelsea are a top side," said Benitez.
But the Spaniard denied reports he was asked to replace Andre Villas-Boas on a temporary basis, saying there was "no proper offer on the table".
Harry Redknapp, Pep Guardiola and Joachim Low all distanced themselves from the Blues job on Tuesday.
Villas-Boas was sacked as Chelsea boss on Sunday following a 1-0 defeat by West Brom, the latest result in a poor run of form that has seen the Blues drop out of the top four in the Premier League.
Tottenham manager Redknapp has ruled himself out of contention, while Barcelona manager Guardiola laughed off speculation linking him with a switch to England.
Real Madrid boss Jose Mourinho and Benitez, without a club since leaving Inter Milan in 2010, to succeed Villas-Boas.
"I have a record in the Champions League and I have experience in the Premier League," Benitez told BBC Radio 5 live.
"I know a good project will come. When this project will come I don't know.
"You can't stay without a job for a long time. I like to manage and I like to challenge and win trophies and stay involved.
"I've been waiting for one year, I want to work and have a job. The Premier League is my priority and a top side would be better."
On talk of an offer to take over until end of season, he said: "There are a lot of rumours in the media and you have to be professional and you have to be ready just in case.
"But there was no proper offer on the table."
However, Chelsea fans voiced their disapproval on any potential move for the 51-year-old by chanting against him during the Blues' 2-0 FA Cup win at Birmingham on Tuesday.
Instead supporters clamoured for the return of Mourinho, who won six trophies in his three seasons at Stamford Bridge between 2004 and 2007.
But Benitez added: "I can understand that Chelsea fans want Mourinho but I have been very successful. If you ask Liverpool or Valencia fans, they would say they want me back."
Redknapp, strongly tipped as the next England manager following Fabio Capello's resignation in February, says it is a dream job for somebody.
"It's a club you can win a championship at because the owner spares no expense. If you do well, the sky's the limit," he said.
"[But] it would be difficult. I wouldn't be able to come back to north London so I'll pass on that one."
Guardiola is yet to sign an extension to his current Nou Camp deal which runs out at the end of June.
But, when asked if there had been any contact, he said sarcastically: "I speak every day with Chelsea."
Germany coach Low's agent, Harun Arslan, insisted the 52-year-old is focused on leading Germany at Euro 2012.
He told BBC Sport: "Joachim Low is under contract until 2014 with the German national team and he will take that team to Poland and Ukraine for Euro 2012 in three months' time.
"We therefore won't be making any remarks about the Chelsea manager's job."
It is also understood that reports of a meeting between Low and Chelsea owner Roman Abramovich in a Geneva hotel yesterday are incorrect.
Although Villas-Boas was Chelsea's eighth manager in the last eight years, Redknapp believes the role remains an attractive one.
"So many people would love that job and a chance to work at a great club with the backing that the manager gets there - but you've got to make a success of it. If you do well, the sky's the limit."
Meanwhile, former Chelsea boss Glenn Hoddle has admitted he would relish returning to the west London club.
Hoddle, who spent three years at the helm during the mid-1990s, said: "If they were prepared to look for an English manager, I would love to go back there. I really must say that.
"But I think they will probably keep with the policy of staying foreign, I really do."