Fifa warns The Gambia that it faces 'severe sanctions'
Last updated on .From the section Football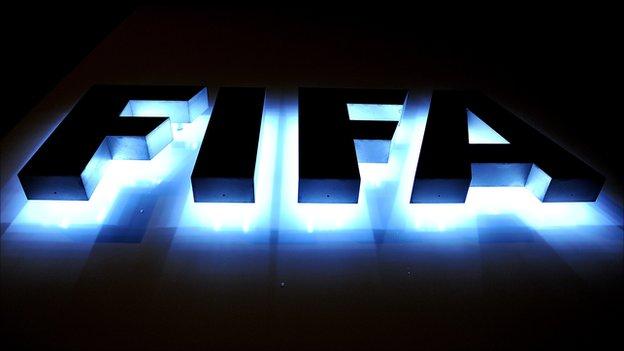 Fifa has warned The Gambia that it faces "severe sanctions" after the government dissolved the country's football association (GFA) last week.
The move came after the Scorpions' 2013 Nations Cup qualifying loss to Algeria.
Fifa says it has written to the GFA, insisting it has not "recognized and/or condoned" the government's decision.
"In particular, no governmental instituted 'interim committee' would be recognized and/or dealt with by Fifa," the governing body of football said.
Such news follows on from Monday's decision by the Ministry of Youth and Sports to appoint an interim committee to oversee the country's football for the next 12 months.
"Following the dissolution of the GFA executive on Friday 2nd March, the Ministry of Youth and Sports has taken the decision to set up an interim committee to steer the affairs of the FA till congress which is due in one year's time," a ministry statement said.
The interim committee is headed by Ousman B. Conateh, the FA's honorary life president, with a former FA president, Omar Sey, and former vice-president, Salifu Jaiteh, also involved.
Fifa has asked the elected officials who have been ousted to report on their situation by Thursday.
"Upon expiry of this deadline, the submission of the present case to Fifa's Emergency Committee will be evaluated,'' Fifa warned.
The emergency panel chaired by Fifa President Sepp Blatter can suspend countries from world football if it decides that governments have interfered in the running the sport, which Fifa outlaws.
"Fifa underlines that any action taken against the GFA's executive committee would constitute a clear governmental interference and therefore infringe the Fifa Statutes which could lead to severe sanctions,'' the warning letter said.
Suspension from world football prevents teams and officials, at national and club level, from taking part in international matches and meetings, with Fifa also able to cut off funding and grants.
The dispute could stop local club Brikama United from playing their African Champions League encounter against defending champion Esperance of Tunisia later this month.
The Gambian national team is not scheduled to play until 1 June when facing Morocco in a friendly - ahead of various World Cup and Nations Cup qualifiers later that month.
Last Wednesday, the Scorpions lost 2-1 at home to Algeria in the opening leg of their Nations Cup first round clash, with the return game scheduled for 15-17 June.