Gabonese football buoyant after co-hosting Nations Cup
Last updated on .From the section Football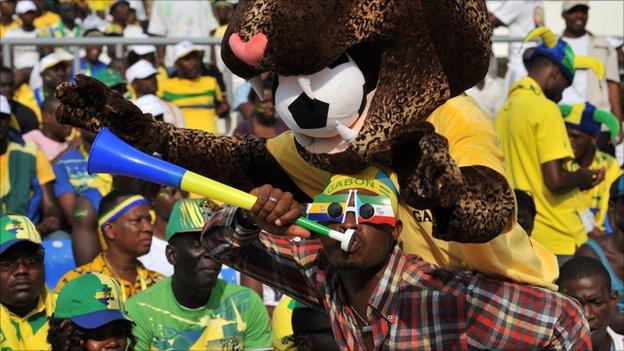 Gabon football officials say co-hosting the 2012 Africa Cup of Nations has greatly boosted the country's game.
The Panthers reached the quarter-finals only to lose on penalties to Mali.
"I think the competition helped create a lot of enthusiasm around football," Gabonese football federation official Jean Didier Nzingi told BBC Sport.
The federation's executive committee member and head of international competitions was speaking in Abidjan where Gabon's 2011 title-holders Missile FC bowed out of the African Champions League on Sunday.
Having led 3-2 from the first leg in Gabon, played the weekend after the Nations Cup final, Missile were torpedoed when Africa Sports won 2-0 at home to qualify.
Nonetheless, Nzingi believes that the wave of enthusiasm washing around the Gabonese game can only help the country's local league and clubs in the near future.
"We hope that we can profit from this to restart our football that did once have a major infrastructure problem," he explained.
"The most important thing now is to maintain this enthusiasm around football, so that the clubs have the ambition to follow the success of the national team."
One of the ways in which Gabon boosted from hosting African football's showpiece event was through the creation of two new stadiums and the refurbishment of one.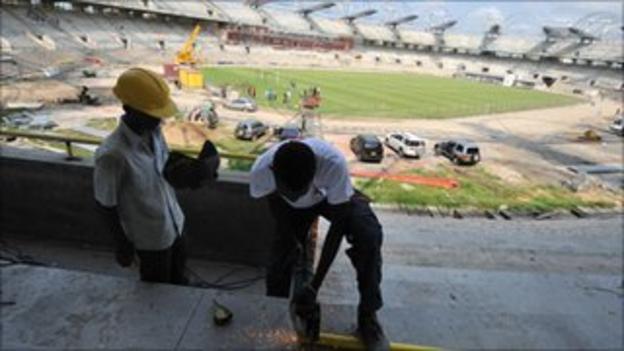 The Stade de Franceville stands proud in the city of that name, while the Gabonese capital Libreville has one new arena and one being upgraded.
The Stade de l'Amitie hosted a number of Nations Cup matches, including the final itself, while the Stade Omnisports was not finished on time - but is another with a capacity in excess of 40,000.
Such facilities can only boost a nation which achieved its first continental title when the Under-23 side won the African championships in Morocco in December.
"The infrastructure is now there and I think they'll be attributed to the biggest clubs in the division, so I think this can only help these clubs and help the game evolve for the better," said Missile coach Luc Eymael.
"When you train on decent pitches with good infrastructure it helps lift the game and the country's game as well," Eymael told BBC Sport.
During its long football history, no Gabonese side has ever won a major Caf club competition.